Rifi : March 14 should refuse partnership with Hezbollah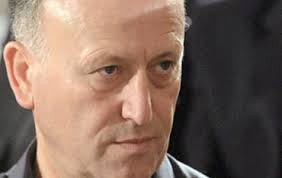 Lebanon's former Internal Security Forces chief Ashraf Rifi said on Friday that the March 14 coalition should refuse to participate in the formation of any cabinet in which Hezbollah is represented, if the latter does not cease fighting alongside the Syrian regime.
"March 14 must refuse partnership with Hezbollah in the executive branch unless it withdraws from Syria," Rifi said in a statement.
"The Future Movement has not renounced its basic condition that Hezbollah withdraw from Syria and adhere to the Baabda Declaration, [which is why] it wouldn't agree to a cabinet of partnership with Hezbollah." He added.
The former ISF chief highlighted that the ministerial statement is a fundamental issue that must be discussed with regard to the formation of the cabinet.
"The ministerial statement is more important than candidates and portfolios," Rifi said, in reference to his vociferous objection to the current ministerial formula of army-people-Resistance, which allows for the government to uphold the status of Hezbollah's arms.
"We must discuss the government's policy before talking about candidates and the rotation of portfolios."
Rifi went on to underline the necessity of decreasing Hezbollah's role in decision-making in the country.
"Hezbollah is a [political] party just like any other; It is not [entitled] to decide how the cabinet is formed."
"The aim is to free Lebanon from the grip of Hezbollah and the Iranian project," Rifi added.
Lebanese President Michel Suleiman said earlier on Friday that the country's political parties have ten days to reach a consensus on a unity cabinet, or he will move ahead with green-lighting a fait accompli cabinet.
Progressive Socialist Party leader MP Walid Jumblatt and Speaker Nabih Berri have been leading efforts to broker a new government that gives eight ministers each to the March 8 and 14 alliances, and 8 ministers to centrists.
According to media reports, the March 14 alliance wants a rotation of ministerial portfolios between parties in the new cabinet, and for the new government's ministerial statement to adhere to the Baabda Declaration, calling for Lebanon's neutrality in the ongoing Syrian civil war.
However, Hezbollah reiterated its sharp warnings against a fait accompli cabinet on Thursday, with MP Hassan Fadallah saying that Lebanon "could slip into an irresponsible adventure that will make the [current] crisis more complicated and delay the presidential elections."
NOW