Hariri approves the 8-8-8 cabinet formula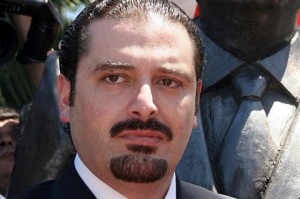 Following a  Friday meeting between Caretaker Social Affairs Minister Wael Abu Faour and Nader Hariri, top adviser of former Lebanese PM and Future Movement leader MP Saad Hariri, reporters were told that the former PM has agreed to participate in an 8-8-8 cabinet formula, LBCI reported.
LBC I also added that former Lebanese PM and Future Movement parliamentary bloc leader MP Fouad Siniora will inform President Michel Suleiman on Saturday of his Party's official approval of a cabinet with the 8-8-8 lineup and discussion have already kicked off on Friday evening on the details of the government's composition.
There is reportedly an acute disagreement within the March 14 alliance since Lebanese Forces leader Samir Geagea has informed his allies that he rejects to join such a cabinet which he called the "cabinet of nothing."
Abou Faour who represents MP Walid Jumblatt's PSP party in the cabinet also told reporters that efforts are currently focused on holding a meeting between Speaker Nabih Berri and Siniora.
Al Safir Daily Newspaper which is closely allied with the Syrian regime and Hezbollah Leaked preliminary details of the upcoming Lebanese cabinet makeup . The details include names of the ministers, religious and political affiliation.
According to Al Safir report each of the 3 camps , Hezbollah-led March 8, March 14 and the centrists will get 8 seats in a 24 member cabinet.However the Shiite minister allocated to president Suleiman will be named by Hezbollah and Amal , in other words even though the seat is allocated to the president, the Shiite minister will be under Hezbollah/ Berri control for veto purposes.