Syrian rebels free 50 captives held by Al-Qaeda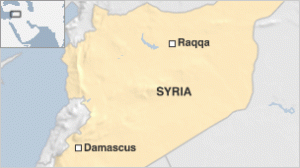 Syrian rebel fighters have freed at least 50 people held captive by an al-Qaida-linked faction after clashes between rival sides deepened within the country's opposition-held areas in the north, activists said.
The rebel infighting in Raqqa – a bastion of the al-Qaida-linked group known as the Islamic State of Iraq and the Levant (Isil) – reflects a widening war within a war in Syria, this one against radical extremists.
It also suggests that emboldened, recently formed rebel factions are trying to completely overrun their al-Qaida rivals in some areas of the north. The infighting has been the most serious since armed groups initially rose to try overthrow the regime of President Bashar al-Assad.
Tensions against al-Qaida-linked fighters had been simmering for months, with on-and-off clashes undermining the rebels' fight to topple Assad. Heavy fighting erupted in the northern provinces of Aleppo and Idlib again on Friday after residents there accused Isil fighters of killing a popular doctor.
An activist group, the British-based Syrian Observatory for Human Rights, estimated that at least 100 fighters on both sides have been killed since Friday.
The rebels fighting against the Isil are an unruly series of moderate and ultra-conservative groups who have little to unite them, except for their hatred of the al-Qaida group – an organisation dominated by foreign fighters who initially fanned into Syria from neighbouring Iraq in March and muscled into areas that rebels wrested from Assad-loyal forces, imposing their deeply conservative interpretation of Islamic law.
Rebels accused them of overtaking their areas, seizing their weapons and detaining their fighters. They also have eroded the goodwill of locals by imprisoning Syrian civilians and detaining activists and journalists critical of their rule.
A coalition of Islamic brigades began clashing with Isil forces in Raqqa overnight and the fighting continued on Monday, said Rami Abdurrahman, the director of the Observatory. Another activist group, the Local Co-ordinating Committees, also reported the Raqqa clashes, saying they were focused around a city post office.
The Observatory said rebels surrounded the Isil's chief compound in Raqqa and liberated at least 50 detainees from a nearby prison. They included fighters and activists imprisoned for their criticism of Isil, added Abdurrahman.
The freed prisoners appeared to include fighters of an Islamic group, the al-Tawheed Brigade. In an online video, one of their freed bearded fighters is seen shouting, "This is Guantánamo." The video corresponded with Associated Press reporting on the incident.
The Observatory said Isil fighters retreated from the nearby town of Tal Abyad, along the Turkish border, after heavy fighting there. Clashes between the two sides continued in parts of Aleppo.
Raqqa was the first provincial capital to fall entirely into rebel hands, and was seized by the Isil last year. An Italian priest, Father Paolo Dall'Oglio, went missing in July after travelling to meet al-Qaida militants in Raqqa. Since then, rumours have swirled that foreign aid workers, reporters and Syrian activists have been held in Raqqa's detention centres.
Abdurrahman estimated that more than 1,000 people being held in Isil-run prisons in Raqqa province. He said the fate of Dall'Oglio and foreign journalists remained unknown.
Activists said another al-Qaida-linked rebel group, the Nusra Front, was taking part in the fighting against Isil in Raqqa, while in other places, the group was said to be trying to mediate a truce.
Rebels of the more moderate Syrian Revolutionary Front – a recently formed coalition of rebel brigades aligned with the exiled Syrian opposition – appeared reluctant to give up their offensive.
In a statement on Monday, they demanded Isil fighters desert the al-Qaida group and join their ranks. They also accused the Isil of killing at least 400 of their fighters and imprisoning 2,000.
"Were it not for these actions, the Front would not have raised its weapons," the statement said.
Rebels appear to have taken several Isil compounds in the northern province of Aleppo. Isil fighters also handed over strongholds in the town of Tal Rafat to the Nusra Front to avoid clashes, the Observatory reported.
Rebels and Isil fighters fought in the town of Jarablus near the Syrian-Turkish border. Isil had seized key border crossings from the rebels over the past months.
The Guardian