Aoun attacks Suleiman over neutral cabinet issue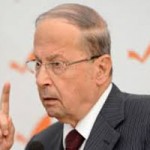 Change and Reform bloc leader MP Michel Aoun attacked Lebanese president Michel Suleiman for defending the formation of a neutral cabinet and reiterated his opposition to such a cabinet, arguing that only politicians are capable of running the state.
"Neutral personas can be writers while technocrats can be advisors, but they are not politicians," Aoun said on Tuesday following his bloc's weekly meeting in Rabieh.
"Non-politicians have the right to form a cabinet, but who are the non-politicians?" Aoun said in a direct response to Suleiman's remarks a day earlier.
" Political parties are the basis of democracy," Aoun added.
"I did not understand the several messages that were made during Suleiman's recent speech, especially his remarks that some countries are hindering the formation of a government," he added.
"Why doesn't he name who is obstructing the process?" Aoun asked.
Commenting on March 14 camp demands to keep Hezbollah out of a new cabinet, Aoun who is closely allied with Iranian backed militant group said: "The attempts in the 1970s to isolate the Phalange Party led to a civil war."
On Monday, President Michel Suleiman said during a speech from Beirut's Chamber of Agriculture, Commerce and Trade that he is in favor of forming a non-political cabinet, a move that has been strongly opposed by March 8 parties. Suleiman spoke in favor of forming a non-political cabinet, which the March 8 coalition fiercely opposes.
"Don't the Lebanese who are not affiliated with any party have the right to contribute to reviving the country?" Suleiman said in reference Hezbollah led March 8 objection to a neutral cabinet
"If consensus is not reached on a national unity cabinet, does that compel us to remain without a cabinet?" Suleiman added in reference to obstacle facing the formation of a neutral cabinet.
Lebanon has been struggling for months with the formation of a new cabinet since the resignation of caretaker PM Najib Mikati last April. PM Designate Tammam Salam has cited the pre-conditions imposed by the opposing March 14 and March 8 blocs as a reason behind the delays in the process.
Lebanon's constitution stipulates that the president and premier-designate can sign decrees approving a government, but the parliament holds final sway on its activation with a vote of confidence.
Even if a new cabinet did not receive a vote of confidence, it would replace Mikati's resigned government as the caretaker cabinet.
The formation of a fait accompli cabinet is likely to prompt a violent reaction from Hezbollah and its March 8 allies, Al-Akhbar newspaper reported last Monday .
"The plan of Saudi Intelligence chief Prince Bandar bin Sultan is to form a fait accompli cabinet to drag Hezbollah into a confrontation in the streets," March 8 sources said in remarks published by the pro-Hezbollah and Syrian regime daily last Monday.
" The plan is prompted by the illusion that Hezbollah will be forced into withdrawing from Syria to gather its forces to respond to internal security pressure." Al-Akhbar added
"They do not know that the party is prepared to confront the security challenges if it is faced with such challenges on more than one front." Al-Akhbar continued.
Recently Hezbollah has been focusing its attacks against Saudi Arabia . The struggle between Iran ( Through its proxy Hezbollah and the Syrian regime ) and Saudi Arabia over the future of Lebanon has reportedly cost former Lebanese finance minister Mohammad Chatah his life on December 27 when he and at least six others were killed in a massive bombing that rocked downtown Beirut.
Hezbollah also witnessed last Thursday another a bomb attack that targeted Haret al-Hreik neighborhood of of its Dhahieh stronghold. 5 people were killed and over 70 were injured in the attack.
LF responds
Lebanese Forces MP Fadi Karam responded to Aoun's comments by saying :
"An official that does not know who is obstructing the cabinet's formation is certainly not an expert in politics and must leave these matters to neutrals and technocrats that are more knowledgeable."