Africans continue to protest in Tel Aviv, Israel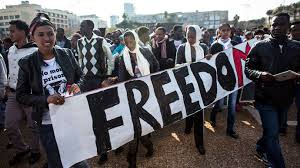 After years of living on the margins of Israeli society, thousands of African asylum seekers flooded the streets of central Tel Aviv for a second day on Monday to protest their treatment by the Israeli authorities and to demand recognition as refugees.
Throngs marched to the United States Embassy on the Tel Aviv seafront, and delegations fanned out to the British, Canadian, French and Italian Embassies as well as the offices of the United Nations refugee agency, among others, to appeal for international attention and help.
On Sunday, tens of thousands demonstrated in Rabin Square in Tel Aviv, many chanting, "Freedom." The migrants also began a three-day strike, leaving many restaurants and hotels without dishwashers and cleaners.
Although the concentrations of African migrants in the run-down neighborhoods of south Tel Aviv have caused friction with the local population, some celebrity chefs and cafe owners have come out in support of their striking workers, serving customers meals on paper plates.
Activists leading the asylum campaign said in a statement, "We believe this strike will demonstrate our importance to the Israeli economy and create a pressure that will cause them to change their policies."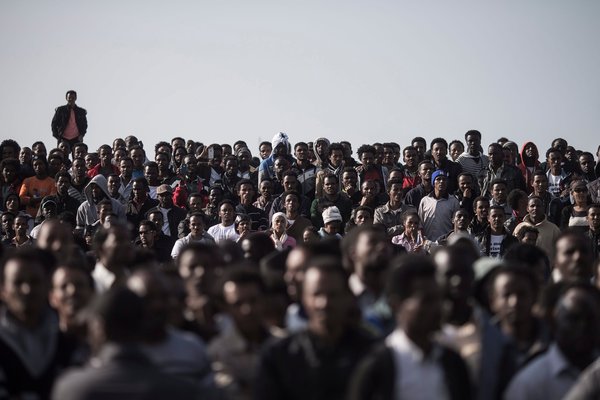 The highly visible, and vocal, campaign, which has dominated the headlines here, was set off by Parliament's approval last month of an amendment to the country's Prevention of Infiltration Law. It allows for the detention of migrants who enter the country illegally for up to a year without trial and allows the state to hold those already in Israel indefinitely in a new "open" detention facility in the Negev Desert.
The representative of the United Nations High Commissioner for Refugees in Israel issued a rare, critical statement on Sunday, saying that Israel's laws and policies did not fit the spirit of a 1951 refugee convention.
About 60,000 migrants have surreptitiously crossed into Israel over the once-porous border with Egypt since 2005, most of them Sudanese or Eritreans who cannot be sent back to their home countries because of the risks. Israel affords them protection from deportation in line with international conventions.
But Israeli officials regard them as "infiltrators" and insist that most of the Africans came as economic migrants looking for work. Only a few hundred applications for refugee status have been processed, and even fewer have been approved, leaving many of the migrants in a kind of limbo where they risk incarceration and cannot legally work.
Israel recently constructed a steel fence along its border with Egypt, halting the influx, but the government maintains a tough policy designed to encourage those who are here to leave.
Prime Minister Benjamin Netanyahu said on Sunday that 2,600 migrants left Israel last year. "I would like to emphasize that these are not refugees, but people who are breaking the law and whom we will deal with to the fullest extent of the law," he said, adding, "We will continue to deport the illegal migrants from our cities."
Gideon Saar, the interior minister, said on television on Monday, "We have no intention of compromising."
NY Times