Recognition of a Jewish state a sticking point in peace talks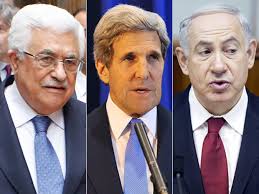 As Middle East peace talks churn on, Israel has catapulted to the fore an issue that may be even more intractable than old ones like security and settlements: a demand that the Palestinians recognize Israel as a Jewish state.
Prime Minister Benjamin Netanyahu has made such recognition the pillar of his public statements in recent weeks, calling it "the real key to peace," "the minimal requirement" and "an essential condition." Israeli, American and Palestinian officials all say it has become a core issue in the negotiations that started last summer.
But Mr. Netanyahu's argument that this single issue underpins all others is exactly what makes it unacceptable to Palestinians. At its heart, it is a dispute over a historical narrative that each side sees as fundamental to its existence.
Critics skeptical of Mr. Netanyahu's commitment to a two-state solution to the long-running conflict say that recognition of a Jewish state is a poison pill that he is raising only to scuttle the talks. The Palestinian president, Mahmoud Abbas, has repeatedly said that the Palestinians will never agree to it, most recently in a letter to President Obama last month.
The Palestinians cite both pragmatic and philosophical reasons: They contend that recognizing Israel as a Jewish state would disenfranchise its 1.6 million Arab citizens, undercut the right of return for millions of Palestinian refugees and, most important, require a psychological rewriting of the story they hold dear about their longtime presence in the land.
But Israeli leaders say that the refugee question can be resolved separately and that the status of Israel's Arab minority can be protected. Without acceptance by the Palestinians that their neighbor is and will be, in Israel's favored formulation, "the nation-state of the Jewish people," Israelis argue that they can never be convinced that an agreement truly spells the end of the conflict.
"The core of this conflict has never been borders and settlements — it's about one thing: the persistent refusal to accept the Jewish state in any border," Mr. Netanyahu said last month in a video statement to the Saban Forum in Washington.
He added: "We recognize that in peace there will be a nation-state for the Palestinian people. Surely we're entitled to expect them to do the same."
The gulf between the two sides on the issue highlights a broader question critical to the outcome of the talks: whether a peace deal must reconcile conflicting versions of the past, or whether it can allow each version some legitimacy and focus on paving a path forward.
By emphasizing recognition, Mr. Netanyahu has also exposed several profound, unresolved questions: Can Israel preserve its identity as a Jewish democratic state while also providing equal rights and opportunities to citizens of other faiths and backgrounds? With a largely secular population, who interprets Jewish law and custom for public institutions and public spaces? Is Judaism a religion, an ethnicity or both?
"The founders of the state of Israel and the founders of Zionism felt that once we have a state, the puzzle of Jewish identity will be solved," said Yedidia Z. Stern, a vice president of the Israel Democracy Institute. "They were totally wrong."
"We don't know what it means to be a Jewish state," he said. "But does that mean we have to give it up? No way. I would leave. The reason I'm here is because this state is a Jewish state and not a neutral one."
Many European countries, as well as Israel, grant a fast track for citizenship or otherwise give privileged status to people born elsewhere with shared roots. Israel's 1948 Declaration of Independence asserted the "establishment of a Jewish state," and Resolution 181 of the United Nations General Assembly, which in 1947 recommended the partition of Palestine, uses the term "Jewish state" 30 times. Mr. Obama and some of his predecessors have endorsed this definition.
But decades later, Israel is still grappling with what the term means. In October, its Supreme Court rejected a request by 21 citizens to be listed as "Israeli" in the national population registry, saying that to do so would belie Israel's founding principle as a Jewish state for the Jewish people. Last year, an Arab justice on the court highlighted the conundrum when he declined to sing Israel's national anthem, which speaks of the "yearning of the Jewish soul" to be "a free nation in our land." Several bills pending in Parliament seek to define Israel more clearly as both Jewish and democratic, with varied emphasis on each.
Yair Lapid, a top minister in Mr. Netanyahu's coalition, has distanced himself from the recognition demand, saying in an October interview, "My father did not come to Haifa from the Budapest ghetto in order to get recognition from" Mr. Abbas.
Palestinian leaders say that they have long recognized Israel's right to exist, and that defining its character is not their responsibility, noting that Israel did not make similar requests of Egypt and Jordan when signing peace treaties with them decades ago.
"Don't countries define themselves?" asked Hind Khoury, a former Palestinian minister and ambassador. "Why doesn't Israel call itself at the U.N. whatever they want to call it — the Jewish whatever, Maccabean, whatever they want. Then the whole world will recognize it."
"We will never recognize Israel the way they want, I mean genuinely, from our hearts," she added. "Why for them to feel secure do we have to deny our most recent history?"
Polls by the Palestinian Center for Policy and Survey Research show that Palestinian support for such recognition has dropped over the past decade to a low of 40 percent last September, from a high of 65 percent.
"It seems the public differentiates between recognition of a fact (Israel has a Jewish majority) and recognition of a narrative (Israel has a right to a state for the Jewish people in historic Palestine)," Khalil Shikaki, the center's director, said in an email. "Netanyahu's conception requires the Palestinians to endorse a Zionist narrative, which they reject."
But 73 percent of Israeli Jews supported Mr. Netanyahu's demand, in 2010, that Palestinian recognition be a condition of an extension of a construction freeze in Israel's West Bank settlements, according to the Israel Democracy Institute's Peace Index.
While previous Israeli prime ministers, including Ariel Sharon and Ehud Olmert, also declared recognition a key component of any final-status agreement, several people involved in the current negotiations said it has never been at the top of the agenda. Israel has also begun asking European nations to officially recognize it as a Jewish state, and Palestinian officials say the United States plans to include recognition as part of a framework agreement that Secretary of State John Kerry is expected to present to the two sides soon.
Saeb Erekat, the chief Palestinian negotiator, said in an interview that even setting aside the plight of the refugees and the rights of Israeli Arabs, recognition is a problem of principle. "It's my narrative, it's my history, it's my story," he said. "I've never heard in the history of mankind that others must participate in defining the nature of others. It's really ridiculous."
Shlomo Brom, the director of the program on Israeli-Palestinian relations at Tel Aviv University's Institute for National Security Studies, said, "The problem is mutual distrust."
"Because of their distrust of the Israeli side, they believe there is a hidden agenda behind this demand," Mr. Brom said of the Palestinians. For Israelis, he said, "the crux of the matter is distrust in the willingness of the Palestinians to really recognize the right of the Jews to have their own state, even to recognize the linkage of the Jews to this piece of territory."
NY Times