Jumblatt urges all parties to hail Saudi grant to Lebanon army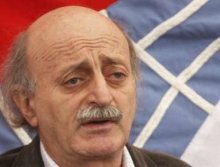 Progressive Socialist Party leader MP Walid Jumblatt hailed on Tuesday the Saudi grant to the Lebanese Army , called it an "important step," and urged all Lebanese parties to respond to it positively.
"It is a must to laud and hail the important step that was achieved through the Saudi-French cooperation that is aimed at supporting and boosting the capabilities of the Lebanese Army," Jumblatt said in a statement on Tuesday
"It is a generous and welcome initiative that came at the right time to support the military institution as it performs its missions amid very complicated circumstances," he added.
Jumblatt noted that "strengthening the Lebanese army's capabilities at this moment carries extraordinary significance, especially amid the Israeli threats and daily territorial, maritime and aerial violations practiced by Israel against Lebanon."
He also said that " protecting stability and civil peace require strengthening the army and security forces to avoid descending into further deterioration."
The PSP leader called on all Lebanese political parties to respond to the Saudi initiative positively, "especially that it serves the interest of the state, which remains the only sanctuary for all Lebanese, regardless of the circumstances and major domestic and regional transformations."
Hezbollah is reportedly unhappy about this development . In an interview with LBCI TV on Monday , caretaker Defense Minister Fayez Ghosn said his Hezbollah-led March 8 alliance has certain concerns that "the donation to the army might be part of the domestic political bickering in the country."
Jumblatt's comments come two days after president Michel Suleiman announced that Saudi Arabia has pledged $3 billion to buy arms for the Lebanese Army from France to help support and strengthen the military.
"I am pleased to announce to the Lebanese people that Saudi King Abdullah bin Abdel Aziz Al Saud has decided to offer Lebanon a generous grant of $3 billion to help the Lebanese Armed Forces receive new weapons," the president said in a televised address to the nation on Sunday
"Enhancing the army's capabilities is a unifying national and popular demand and a source of pride and it is a dream that I always had during my 41 years of military service, and it is the dream of every Lebanese since independence to confront the Israeli threat, protect democracy, face terrorism and put an end to the proliferation of arms," said the president.
Suleiman described the move as "the biggest support in Lebanon's history," pointing out that it is "sufficient to enable the army to perform its missions."
Suleiman also revealed that another 1.6 billion dollars might be offered during an international meeting in Italy in 2014.
"The initiative is an honest reflection of the kingdom's efforts to preserve Lebanon," Suleiman said.