March 14 mourns the death of former Minister Chatah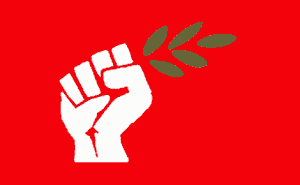 The March 14 General Secretariat mourned the death of former Finance Minister Mohammad Chatah, who was killed in car bomb explosion in Downtown Beirut on Friday.
"[We] mourn our martyred brother Mohammad Chatah who was killed today in a terrorist attack that points to its perpetrators and almost lists them by name and political allegiance," the General Secretariat said in a statement.
"[Chatah] is the martyr coming out of 'the moderate resistance,' who had unsettled those who instigate strife and those who commit crimes against humanity in Lebanon and Syria."
The March 14 General Secretariat also vowed to "continue along the path of the true Lebanese resistance where the martyrs of the Independence Uprising and Lebanon Spring have fallen."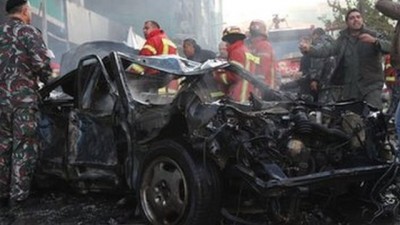 Chatah, a close advisor of Future Movement leader MP Saad Hariri, was killed by a car bomb as he was heading to a March 14 meeting in Hariri's residence in Downtown Beirut.
Earlier today the March 14 coalition called on all Lebanese to attend the funeral of the former Lebanese Finance Minister which will be held in Downtown Beirut on Sunday and to express national outrage over the assassination.
"Lebanon will bid farewell to former Minister Mohammad Chatah on Sunday December 29th," the National News Agency said on Friday.
Dr. Chatah died Friday near the Starco complex in downtown Beirut when a car bomb struck his convoy as he was heading to a March 14 meeting at Future Movement Saad Hariri's residence in Downtown Beirut to present a plan to save the city of Tripoli.
The blast killed six others and left 70 wounded. Cars were burned beyond recognition as a wall of flames and thick black smoke shot up from the blast site.
Chatah's bodyguard, Mohammed Badr, was among those killed, National News Agency said.
No one has claimed responsibility for the attack but fingers were pointed at Hezbollah and Syria. Chatah a close advisor of Future Movement leader MP Saad Hariri was an outspoken critic of the Syrian regime and of Hezbollah.
Chatah's death comes 20 days before the U.N.-backed Special Tribunal for Lebanon begins the trial of five Hezbollah suspects over the 2005 assassination of Rafik Hariri. Like Chatah, Hariri was also killed in a car bombing in downtown Beirut.
Former PM Saad Hariri condemned Chatah's assassination and drew a parallel between his murder and the murder of his dad Rafik :
"The criminals are the same ones behind former PM Rafik Hariri's assassination. The assailants seek to assassinate Lebanon and weaken the state." He said.
Earlier today Judge Saqr Saqr ordered the erection of a tent at the site of the downtown blast in order to determine the nature of the explosives used in the attack and the size of the crater it created.
Sqqr revealed later that the explosives of the car bomb weighed between 50 and 60 kg ( 110-132 )lbs
About Chatah
Mohammad Bahaa Chatah, 62( 1951 – 27 December 2013), was an economist holding senior positions both at home and abroad and a voice of moderation in the Future Movement, the party that was founded by the assassinated former Prime Minister Rafik Hariri.
A prominent economist, Chatah's first post as a Lebanese government official was vice-governor of the Central Bank of Lebanon from 1993 until 1997.
He later served as finance minister in 2007-2008 and as Lebanon's ambassador to the United States from 1997 to 2000.
He also served as senior adviser to Prime Minister Fouad Siniora from August 2005 to July 2008 and later to former Prime Minister Saad Hariri since August 2009.
Prior to that, Chatah worked for the International Monetary Fund ( IMF) in Washington D.C. from 1983 until 2005 and held several positions including advisor on external communication as well as alternate executive director for the Middle East.
Chatah's resignation from the IMF in 2005 coincided with Hariri's assassination that took place on February 14, 2005. He returned to Lebanon to serve as Siniora's adviser.
An active member of social media in the country, the veteran diplomat maintained an online blog where he used to post political commentary. His recent post titled "Five facts and a conclusion" focused on the war in Syria.
"Humanitarian considerations aside, any policy that is based on the premise that a protracted conflict in Syria is costless is misguided and dangerous. It is exactly what Iran wants and it will help the scourge of terrorism to thrive," he wrote
Chatah made his last tweet shortly before his assassination, accusing Hezbollah of trying to exercise similar practices to that of the Syrian regime during its hegemony over Lebanon.
" Hezbollah is pressing hard to be granted similar powers in security and foreign policy matters that Syria exercised in Lebanon for 15 years," he tweeted minutes prior to his killing.
Dr. Chatah's killing is the most recent among a series of assassinations that targeted anti-Syrian figures since 2004.
Chatah graduated with a BA in Economics from the American University of Beirut and then continued his studies in the United States and graduated in 1983 with a PhD in Economics from the University of Texas.
Chatah, a father of two, hailed from the northern city of Tripoli.