Lebanese man kidnapped in Nigeria's Kano city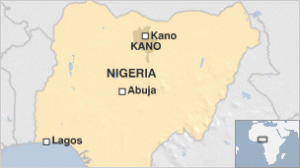 Gunmen have taken a Lebanese businessman hostage in the northern Nigerian city of Kano after storming his factory, police spokesman Magaji Majiya told the BBC.
A man and a woman were wounded when the attackers opened fire as they took the man hostage, he said.
Police have launched a manhunt to arrest the attackers, Mr Majiya added.
Northern Nigeria has been hit by an Islamist insurgency that has led to kidnappings and killings.
However, no group has said it abducted the businessman, whom police have not identified.
The BBC's Yusuf Ibrahim Yakasai in Kano says police have mounted checkpoints in the city, as they try to track down the hostage takers.
While there are suspicions that militant Islamists carried out the attack, the possibility that a criminal gang took the man hostage for ransom cannot be ruled out, he says.
Last year, a German engineer, Edgar Fritz Raupach, was abducted in Kano by militant Islamists.
He was killed during a security force operation to rescue him.
It was not clear which group abducted Mr Raupach, but a video purported to be from al-Qaeda's North Africa wing demanded at the time that Germany free a woman jailed on terror charges in return for his release.
The Islamist insurgency in Nigeria has been mainly waged by a local group, Boko Haram.
Thousands of people have died since it launched the insurgency in 2009.
In May, Nigeria's President Goodluck Jonathan declared a state of emergency and deployed the army to three states to the east of Kano where Boko Haram has been most active – Borno, Yobe and Adamawa.
Nigerian police gave no name but employees at the MC Plastics facility identified the kidnapped Lebanese who is the owner of the Nigerian factory as Hassan Zain.
Kidnappings for ransom are common in Nigeria with scores of foreigners, including Lebanese nationals, targeted every year.
Kano, like many west African cities, is home to large Lebanese diaspora.
BBC/ agencies