Iran nuclear talks to resume after Christmas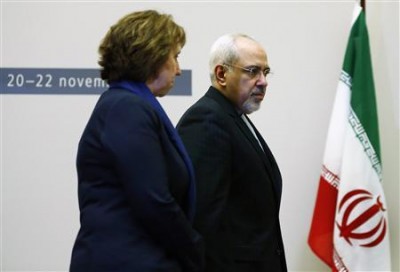 Talks between Iran and six major powers on implementing last month's nuclear deal will resume after Christmas, a spokeswoman for European Union foreign policy chief Catherine Ashton said Monday.
Baroness Ashton spoke with Iranian Foreign Minister Javad Zarif on Sunday, the spokeswoman said, after experts held three days of fresh implementation talks in Geneva.
"There will be a break in technical talks over Christmas," said the spokeswoman, Maja Kocijancic. "We expect that technical talks will resume before the new year."
The Nov. 24 confidence-building deal saw Iran agreeing to curtail some of its nuclear activities in exchange for a modest relaxing of international sanctions on the country. The agreement was seen as a first step toward a comprehensive accord the two sides hope to sign within 12 months.
However, a number of issues must still be completed from the November agreement including when the confidence-building deal enters into force and what steps Tehran must take to scale back its nuclear activities first. Details on how and exactly when the West will ease some of the sanctions on Iran also need fleshing out.
The first round of implementation talks in Vienna ended acrimoniously on Dec. 12 after Tehran reacted angrily to a U.S. decision to expand its list of sanctions targets, a move Iran said breached the spirit of November's deal. Western officials say they will continue to strictly enforce existing sanctions.
The talks resumed in Geneva last Thursday and Western diplomats say they are making steady progress.
Under the November deal, the EU and U.S. agreed to lift some sanctions on Iran's petrochemicals sector, they scrapped a ban on trade in precious metals and the U.S. agreed to unfreeze some $4.2 billion in Iranian oil revenue assets held abroad. The EU also agreed to make it significantly easier to make financial transfers to Iran for permitted trade activities.
Iran, which says its nuclear program is for purely civilian, peaceful purposes, is negotiating with the five permanent members of the United Nations Security Council plus Germany.
WSJ