Apartheid bill boycott in Soweto outlives Mandela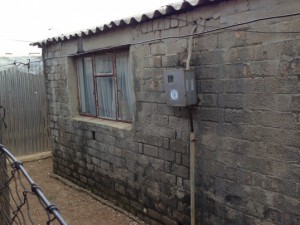 SOWETO, South Africa — In the nearly 24 years since Nelson Mandela's release from prison, a lot has changed in South Africa, but one thing has not: Large numbers of Soweto residents still aren't paying their electricity bills.
In 1986 Sowetans protested apartheid by boycotting rent payments, which covered electricity. Sowetan leaders demanded the release of then-jailed Mandela and the pooling of tax revenue from the sprawling, black township and the neighboring, white wealthy city of Johannesburg.
Three decades later, apartheid is over, Mandela has died a free man, and Soweto and Johannesburg have been merged into a new broad-based multiracial municipality.
But Eskom, the giant state-owned utility, is collecting less than a fifth of the amount it bills residents in Soweto, chief executive Brian Dames said in a recent interview. Soweto's electricity arrears, which in some cases date back two decades, have climbed 10 percent to $350 million, excluding interest, in six months this year, Eskom said in October.
The company's efforts to cut off service to deadbeat households and force residents to pay in advance for electricity have provoked cries of protest and have prompted freelance electricians to bypass the new meters and reconnect homes whose electricity has been shut off.
"All over, customers are paying except one township: Soweto," Dames said. "The culture has been manipulated by some people in that township for devious means."
The fight over Soweto's electricity bills encapsulates many of the economic issues facing South Africa today and shows how hard it is to untangle the economic apartheid and put households and government on solid financial footing.
The government has extended electricity service to millions of South Africans over the past 20 years. Dames said that in 1991, Eskom was serving less than 35 percent of the population; today it serves about 85 percent. But that means that, after years of under-investment, Eskom must build new power plants. And it has imposed rapid rate hikes to whittle away years of heavily subsidized electricity.
Meanwhile, in Soweto, a culture of protest has given way to a culture of entitlement. Moreover, widespread poverty and unemployment make it difficult for people to pay the rising bills even if they want to.
"There are households where there are elderly people and there is lots of unemployment. And if they have to pay the full fees, they find it very hard," said Johannes Moropodi, 50, who was left paraplegic after car thieves shot him and took his minivan taxi in 1996. Though he now works for the provincial government, Moropodi has four children and his wife is unemployed. He owes Eskom about $3,800 and is circumventing the meter.
He said that "people feel that this is one of the basic services government should provide" or at least subsidize. He said that the utility said it would cancel his arrears if he started paying his monthly fees in advance, but he said the arrears kept appearing on his statements.
"It was only a trick," he said.
Back in 1986, the apartheid government owned virtually all the land in the townships. Blacks could only lease their homes.
"The rent boycott was not just a rent boycott. It was a political strategy," said Mavi Panyane, an organizer of the Soweto Civic Association in the 1980s who now works for the city government. "The aim was to render apartheid ungovernable and assure the collapse of the apartheid system by making sure local authorities collapse."
After Mandela's release, the government gave away the land and houses to people living in them. That still left the need to charge for garbage removal, water and electricity, and residents complained that those were too expensive.
Meanwhile, Soweto households were acquiring new appliances, raising bills. A dressmaker in the Jabavu section of Soweto who spoke on the condition of anonymity said that she acquired a television just over 20 years ago, a washing machine about two years ago and an electric stove about three years ago. About five years ago, her family added rooms in back for rental to three people.
In addition, in recent years the National Energy Regulator of South Africa raised rates. In March, the agency approved an 8 percent increase, half of what Eskom requested but still substantial.
"People don't want to pay," said the dressmaker, who added that she prepays for her power but sometimes runs out. "It's a rip-off."
The rate boycott is just one of many problems facing Eskom, which provides 95 percent of South Africa's electricity. Its revenue comes to about $13 billion a year. The company is upgrading transmission lines, is building two gigantic coal plants and has refurbished three mothballed coal plants. (A dilapidated abandoned coal plant is one of the first sights on the main road at the north entrance to Soweto.)By 2017, Eskom plans to boost capacity by 40 percent. Dames, who will step down in March, said that the new coal plants would allow Eskom to close down older, less efficient plants.
But environmental activists oppose the increased use of coal, which already accounts for 85 percent of Eskom's power. A $3.75 billion World Bank loan issued in 2010 to build the massive coal plants drew protests from climate activists; the bank this year said it would limit new coal loans. Eskom is now branching out into solar, but coal, which is abundant in South Africa, is still the centerpiece of its strategy.
The electricity giant, heavily in debt, says that it is a burden to subsidize Soweto residents when capital needs are great. Moody's recently assigned a Baa3 rating to Eskom's more than $20 billion in bonds, with a negative outlook.
"South Africa's energy tariffs have historically been amongst the lowest in the world. Against a background of low investments during the 1990s and — until about 2007 — tariff increases often below inflation, it has been a significant challenge for the regulator to increase tariffs without harming users unduly," said Moody's credit research team.
Although Eskom is unpopular, other agencies also have trouble collecting payments. The Johannesburg government in 2001 established a municipally owned utility, City Power, which this year estimated that a quarter of its customers are not paying. City Power relies entirely on electricity that it buys from Eskom.
"The municipalities don't want to confront people. So that means other ratepayers are subsidizing these buggers," said Khehla Shubane, a former Robben Island prisoner, one-time Soweto activist and later chief executive of the Mandela Foundation. "Maybe we didn't think about this at the time. It has become comfortable for people to use services without paying for them."
Panyane says that Eskom has done a bad job at convincing Sowetans that paying their bills is their responsibility.
"I've seen many of the companies Eskom has employed to talk to the people of Soweto to encourage them to pay for services," he said. "They came to my house several times and talked to me about payments. I showed them my meter box and said I'm a responsible citizen and showed them my receipts. And every time after speaking to these people I was more convinced that they are not going to get anywhere."
Washington Post
Photo: An electricity meter from the state owned Eskom on the side of a home in Soweto region of Johannesburg. Eskom's efforts to cut off service to deadbeat households have provoked cries of protest and have prompted freelance electricians to bypass the new meters and reconnect homes whose electricity has been shut off