Aspirin risks may outweigh benefits, report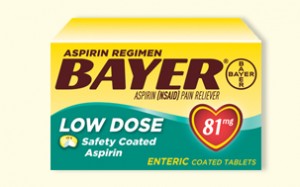 Healthy adults who take daily aspirin to stave off heart disease may be inviting more harm than benefit, according to a new review of past studies.
Adults face a crush of conflicting health messages about aspirin and the role it plays as a preventive medicine.
In an attempt to bring clarity to the topic, UK researchers sifted through the most recent evidence from nine randomized controlled trials – which are considered medicine's gold standard – and other systematic reviews of such trials. They found a total of 27 studies between 2008 and 2012 that fell within their criteria.
"Too many healthy people think that aspirin will prevent heart attacks and cancer," said Dr. Peter Sandercock of the Centre for Clinical Brain Sciences at the University of Edinburgh in Scotland.
Sandercock has extensive research experience in this subject, but was not involved in the current study.
"This shows that if you are healthy, with no symptoms of cardiovascular disease, then it's not sensible to take regular aspirin. It won't improve your health," he told Reuters Health.
The study, he said, reminded him of another recent report that suggested vitamin supplements may not have clear benefits for healthy people (see Reuters Health story of December 16, 2013, here: http://reut.rs/1eovMRe).
"There is a plethora of evidence in this area but nobody has drawn together the advantages and disadvantages of aspirin in a systematic way," said Paul Sutcliffe of Warwick Medical School at the University of Warwick in England.
He led the study published in the open-access journal PLOS ONE.
"We need to be extremely careful about promoting the daily use without fully understanding all the evidence," Sutcliffe told Reuters Health.
"All I would say is to not stop taking aspirin without talking to your doctor," he added.
People who have had strokes or heart attacks have a hardening of their arteries, which leads to the formation of blood clots, Sandercock said. Various cardiovascular diseases contribute to the formation of these clots and daily aspirin is widely known to break down those clots and prevent further problems, he added.
Past research has generally shown that a person who experiences a minor stroke has a zero to 15 percent chance of experiencing another stroke the following year, Sandercock said.
"Aspirin could reduce the stroke risk by one-quarter, and that big benefit outweighs the small bleeding risk," Sandercock said.
In their review, Sutcliffe and his colleagues linked regular aspirin intake to the avoidance of 33 to 46 deaths from any cause in 10,000 people over a 10-year period. However, 46 to 49 major bleeds and 68 to 117 gastrointestinal bleeds in 10,000 people in a 10-year period also occurred as a result.
This translates to a 37 percent increased risk of stomach bleeding and 38 percent increased risk of hemorrhagic stroke, the researchers report.
"The study is just another meta-analysis of published overall trial results and contains no new data," said Dr. Peter Rothwell, a clinical neurologist at the University of Oxford in England. He was not involved in the current study.
"The question of the balance of risk and benefit of aspirin is important," Rothwell wrote in an email. "But superficial meta-analyses of very limited published data are not, unfortunately, able to cast any useful light."
Sandercock noted that "science is cumulative."
"Health messages get very confusing in the press – for example, you hear butter is good for you and then that you shouldn't eat butter," Sandercock said.
"Sometimes we need to remind people of good health messages like this one," he added, which shows that "If you are healthy, the harms of daily aspirin cancel out the benefits."
Reuters