Ukrainian Tycoons' Shifting Loyalties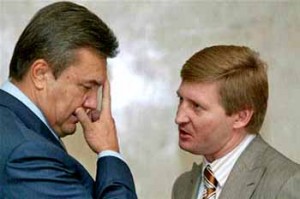 Most people associate oligarchs with Russia's post-Soviet history, when ruthless men bought state assets on the cheap, built business empires, and made fortunes. But Russia isn't the only nation whose economy is dominated by oligarchs. In neighboring Ukraine, about a dozen businessmen have a combined wealth that comes to more than a fifth of the country's gross domestic product, according to the Kiev weekly Korrespondent.
The Ukrainian oligarchs have until recently supported President Viktor Yanukovych. Rinat Akhmetov, who became the country's wealthiest man by acquiring state assets in the steel, coal, and power sectors, helped finance Yanukovych's 2010 presidential campaign, according to Yuriy Yakymenko, an analyst at the Kiev-based Razumkov Centre.
Now, as Ukraine is rocked by protests against Yanukovych's sudden decision to abandon a pending trade agreement with the European Union and opt instead for closer ties with Russia, the president's support from the nation's richest executives is slipping away.
After boosting their fortunes under Yanukovych, oligarchs face credit ratings downgrades in the worsening economy and the possible loss of access to Western markets. "Once it becomes clear that Yanukovych has become a liability rather than an asset, the business elite will switch allegiance very quickly," says Jan Techau, the director of Carnegie Europe. "They are thinking about their long-term financial interests."
Some of the oligarchs are showing sympathy for the protests. A newspaper owned by steel pipe billionaire Viktor Pinchuk gave outside journalists a makeshift office from which to cover the protesters' efforts to topple Yanukovych. Akhmetov's Ukraina television channel has given airtime to opposition leaders.
Pinchuk visited the epicenter of the protests in Kiev's Independence Square on Dec. 7, later praising the demonstrators for showing the "strength" of Ukrainian civil society. Petro Poroshenko, ex-economy minister and the head of Roshen Confectionery, Ukraine's largest chocolate maker, addressed protesters in the square, demanding that Yanukovych sign the treaty with the EU immediately.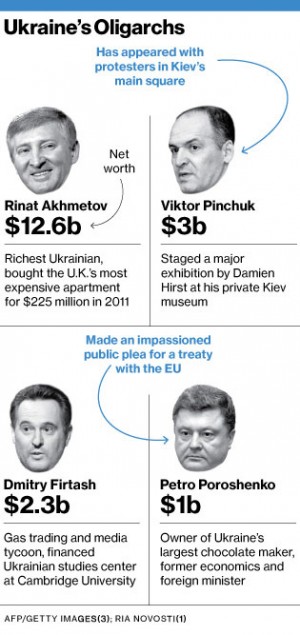 With the signing of the EU treaty looking like a done deal, Ukraine's oligarchs had been counting on improving their profits with better access to the world's largest trade bloc, which bought €14.6 billion ($20 billion) of Ukrainian goods last year. EU rules "will boost the rule of law and make the business environment more predictable" for Ukrainian business, says Ariel Cohen, a senior research fellow for Russian and Eurasian studies at the Heritage Foundation. "For people who have acquired assets worth billions, this is about a provision of safety for them and their families."
The prospect of a deal with the EU is fading fast. On Dec. 17 in Moscow, Yanukovych signed several agreements with Russian President Vladimir Putin that will cut the cost of Russian gas sold to Ukraine by a third—a major concession by the Russians. The Kremlin is also lending $15 billion, on easy terms, to cash-strapped Ukraine. The Russian government badly wants to keep Ukraine within its sphere of influence. Spokesmen for the Ukrainian government and the country's oligarchs would not comment for this story.
Protesters in Kiev say they believe Yanukovych also made a secret pact with Russia to join the Customs Union, a free-trade zone that consists of Russia, Belarus, and Kazakhstan. If Ukraine joined the union, it would strengthen Russia's political clout in the region. In a customs union, Russian oligarchs might also find it easier to stage takeover raids on their Ukrainian counterparts' assets.
The other risk for the oligarchs is that Yanukovych may lose patience and crack down on the protesters. That would signal that Ukraine is adopting the model of next-door Belarus and its authoritarian leader, Aleksandr Lukashenko, says Timothy Ash, the London-based chief economist for emerging markets at Standard Bank (
SBK:SJ
). Lukashenko operates a tightly controlled state, rigs elections, and locks up his opponents.
The EU has imposed a visa ban and an asset freeze on Lukashenko and top Belarusian officials, accusing them of political repression. In the event of a severe crackdown in Ukraine, "the oligarchs would probably be nervous over the imposition of Western sanctions, given many of their assets are in Western capitals," says Ash. He adds that a harsh suppression of dissent would further concentrate power around Yanukovych and his entourage.
Protesters have gathered several times outside Akhmetov's London home, a penthouse at One Hyde Park that cost about £137 million ($225 million). They urged him to cut all ties to Yanukovych, reported the Ukrainian news wire Unian. Like the other oligarchs, with the exception of the outspoken Poroshenko, Akhmetov has not made a clean break with the president. On Dec. 13 he urged a compromise and issued a statement about the demonstrations and police assaults on the protesters: "The fact that peaceful people took to the streets for peaceful demonstrations means that Ukraine is a free democratic country. Ukraine will not turn off this road. This is very good. But the fact that people suffered is unacceptable."
Now the oligarchs have to reassess their strategy in light of Russia's generosity with Yanukovych and the protesters' vow to keep going. "If the oligarchs are turning away from Yanukovych, it's because they did the math and found their business model fits better with the EU than with Russia," says Carnegie Europe's Techau. Yet he adds, "The entire domestic scene in Ukraine is now in flux."
Bloomberg
Photo: Top photo: President Viktor Yanukovych ( L) and  Rinat Akhmetov