Iraq market bombings kill 9, wound 23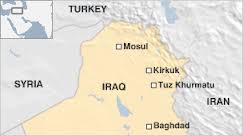 Two roadside bombs exploded at an outdoor market in northern Iraq Friday, killing nine people and wounding 23 others, police said.
The blasts occurred in quick succession in Tuz Khurmatou, according to Tikrit police officials.
The city is located about 200 kilometers (125 miles) north of Baghdad.
CNN