Suleiman still taking to Hezbollah, report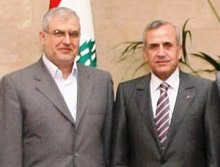 Several rumors  circulated  recently pointing to  a rift  between  President Michel Suleiman   and the Iranian- backed Hezbollah militant group but   Baabda Palace officials  who were not identified  told An Nahar daily in a report published on Thursday that "the president is in continuous contact with all the political parties."
"His relations with them have not been cut and he has no hostility against anyone," they told an Nahar
The rumors  said  that Hezbollah  has launched a campaign against the president over fears that he would form a fait accompli cabinet along with Premier-designate Tammam Salam and over accusations that he has entered the "Saudi sphere of influence."
Hezbollah has been calling for the formation of a government in which the March 8 and  March 14 alliances have veto power.  However  March 14  rejected the proposal .
President   Suleiman last week reiterated his call on Hezbollah to withdraw from Syria and abide by the Baabda declaration.
The Baabda Declaration was issued following a national dialogue in 2012, and was championed by President Suleiman and signed by all the Lebanese parties including Hezbollah. It called on distancing Lebanon from regional conflicts.
Thousands of Hezbollah fighters are reportedly helping the forces loyal to Syrian president Bashar al Assad in their fight against the mostly Sunni rebels who are trying to topple the 40 year old dictatorship.
650  Hezbollah fighters have already been killed in Syria so far this year according to a report by the well informed  Kuwaiti newspaper al Seyasseh
Saudi Arabia is a strong backer of the rebellion against Assad.
An Nahar said that Raad is expected to visit Baabda Palace soon.
Raad and Suleiman held a telephone conversation on Wednesday over the latest attack in the Hezbollah stronghold of Baalbek which allegedly resulted in  several casualties.
Hezbollah  is    preparing for internal confrontation  according to local media reports  . It has reportedly given orders for the "general mobilization" of its fighters in Lebanon and the reactivation of the Resistance Brigades, a paramilitary group loyal to the Shiite party, NOW quoted Kuwaiti daily As-Seyassah as reporting onThursday.