Mansour: Lebanese expats in south Sudan are safe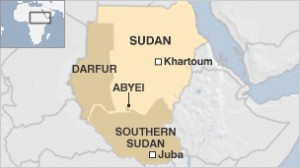 Caretaker Foreign Minister Adnan Mansour was informed by his South Sudanese counterpart Barnaba Marial Benjamin that the Lebanese expatriates in South Sudan are safe.
"Lebanese nationals living in South Sudan are safe, and the current situation is calm," Benjamin told Mansour on Wednesday.
Mansour met with Benjamin during an official visit to the Ivory Coast, where Mansour also met with Ivorian Interior Minister Ahmad Hamed Bakayoko.
Mansour also received a phone call from Lebanese businessman Ali Merhi who updated him on the situation of his fellow expats.
"All the Lebanese in Juba are in good condition," Mansour was informed.
Mansour's comments come after the families of the Lebanese expats besieged in South Sudan urged the caretaker Foreign Minister on Tuesday to help their relatives return to Lebanon.
"We call on Adnan Mansour to work hard on retrieving all the Lebanese stuck in (South Sudan's capital) Juba," the families of the expats said in a released statement.
The statement added: "Lebanese expats' situation is at the heart of the FM's duties, especially of those besieged in Juba."
"They asked us to convey their concerns over the unknown fate they are facing in a country currently experiencing a coup attempt." The relatives of the expats said adding .
"No one can guarantee their future amid the ongoing clashes."
There are about 900 Lebanese in south Sudan according to Lebanese media reports.
Death toll rises
Recent fighting in South Sudan has left about 500 people dead, the country's government said Wednesday, warning that the toll could rise.
About 800 more people have been wounded in the violence, Information Minister Michael Makuei Lueth told CNN. He said some bodies are still being found in forests and many of those who were wounded are dying in hospitals.
Deadly clashes in Africa's newest nation began Sunday evening. President Salva Kiir later said his forces had halted a coup attempt.
U.N. officials have expressed deep concern about the unrest, saying between 15,000 and 20,000 people have taken shelter in the organization's compounds in the capital, Juba.
"There are many, many people who have run away, and there are also people who have been killed," one woman who fled the fighting said. "Now there is a woman who has a baby who was shot in the back and died."
Gunfire was still ringing out in Juba as recently as Tuesday. But Makuei said Wednesday the situation in the city had returned to normal, with people returning to work, flights resuming and government offices opening.
He said the rebels who have clashed with government forces had moved closer to the Nile River.
A United Nations official says there's work to be done before the country returns to normal.
"I am not in a position to really characterize the political situation here, but the crisis is not over," Joseph Contreras, U.N. acting spokesman on South Sudan, told CNN.
"It is a very, very fluid situation, so I don't think the country is out of the woods yet."
Fears of ethnic tensions
U.N. officials have said they are worried the recent fighting is based on ethnic divisions.
Makuei disputed that suggestion, saying people from different states and tribes rose up against the government, which is now fighting back.
In a televised address Monday, Kiir blamed soldiers loyal to his sacked deputy, Riek Machar, for starting the fighting Sunday evening.
Ten people were arrested in connection with the foiled coup and five others are still at large, according to a statement posted Tuesday on the South Sudan government website.
The United Nations said Secretary-General Ban Ki-moon spoke with Kiir by phone Tuesday, expressing his concern about the fighting.
He urged "all parties to cease hostilities immediately" and called on the government to "exercise restraint in the management of the situation and to guarantee the protection of all civilians regardless of their ethnicities."
Medical crisis
The International Committee of the Red Cross has said it is providing Juba's two major hospitals with support, such as wound-dressing materials, to cope with the heavy influx of patients.
More than 300 people have been admitted to Juba Teaching Hospital and Juba Military Hospital over the past two days, the organization said Tuesday.
"We know there are more people who need care, but they are having difficulty reaching healthcare facilities because of the security situation and the lack of available transportation," Felicity Gapes, an ICRC delegate leading the medical response on the ground, said in a prepared statement.
The State Department said U.S. citizens in South Sudan should leave immediately and ordered the departure of nonemergency U.S. government personnel from the country.
In a tweet, the U.S. Mission in Juba said an evacuation flight for Wednesday was full. With a dusk-to-dawn curfew in effect, it said the airport would close at 5.30 p.m. locally.
Britain's Foreign Office announced the temporary withdrawal of some embassy staff and dependents.
Tensions have been high in South Sudan since Kiir dismissed his entire Cabinet, including Machar, in July.
The move further inflamed deep-running tensions between Kiir's Dinka community and Machar's Nuer community.
South Sudan formally split from Sudan in 2011 after a referendum, following decades of conflict. Numerous armed groups remain active in the oil-rich country.
Britain's minister for Africa, Mark Simmonds, urged leaders on all sides to end hostilities and for civilians to be protected.
"After years of conflict, the people of South Sudan expect their leaders to resolve their differences through political, instead of military, means," he said in a prepared statement. "Unless there is restraint from all sides it will be impossible to move the country further towards true national reconciliation."
Agencies/CNN