France arrests 21 people over sale of lab horse meat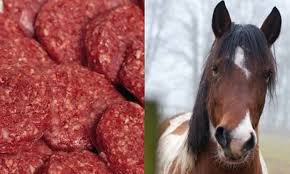 Twenty-one people have been arrested after an investigation into claims that meat from horses used in laboratory experiments was sold for food.
Police carried out dawn raids in 11 regions in the south as part of a year-long inquiry, Le Figaro reported.
The animals were bought from a laboratory owned by the pharmaceutical company Sanofi. A spokesman for Sanofi said it was co-operating with the investigation and confirmed they used the horses to manufacture antibodies against rabies and tetanus.
Benoit Hamon, France's consumer affairs minister, told RTL radio that it was a question of food safety, rather than simple fraud.
"These were horses that should have ended up at the slaughterhouse, and instead they ended up at the butcher," he said.
Hamon drew a sharp distinction between the raids and a scandal earlier this year in which inexpensive – but edible – horse meat was passed off as beef and sold in supermarkets and restaurants around Europe.
"There are horses that should end up neither on your plate nor at the butcher, and that's the work of this investigation" he said.
Independent