Africans, the world united to say farewell to Mandela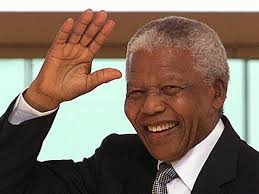 After 27 years in prison, and nearly as long enjoying the fruits of his sacrifice, Nelson Mandela is now resting under the peaceful Qunu skies.
It was a funeral the like of which South Africa has never seen for the nation's beloved Madiba.
Thousands gathered under a beautifully dressed marquee erected a few hundred metres from Mr Mandela's home.
Inside, 95 cream candles glowed as a tribute to a life lived to the full – one for each of his years.
It was a sombre occasion, mournful hymns filled the tent, specially erected for the 4,500 guests.
South Africans, Africans and the world were united to say farewell to Mr Mandela. There were no celebrations here, just the realisation that the end has come.
The mourners rose and sang Lizalise idinga lakho ("Lord fulfil your promise"), one of Mr Mandela's favourite Xhosa hymns.
With the song urging them on, a group soldiers escorted Madiba's coffin, draped in the South African flag into the tent.
The moment many had dreaded was here, the final goodbye, and a heaviness filled the air.
"Lord you have no beginning, you have no end," the mourners sang, honouring Mr Mandela's mother, Nosekeni and the former president, who both found comfort in the words of the song when life was difficult.
One of his closest friends, fellow Robben island prisoner Ahmed Kathrada, could barely hide his pain.
He described Mr Mandela as an "elder brother".
"My life has a void. I have no-one to turn to," he said, holding back tears.
From the heart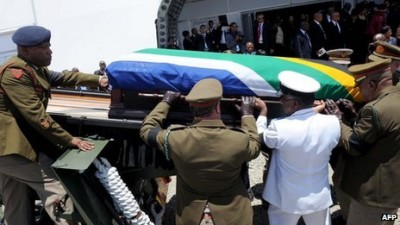 Nelson Mandela's granddaughter Nandi described him as a man with a sense of humour, saying the family would miss his laughter and smile.
President Jacob Zuma said much needed to be done, but that South Africa would strive to become a better nation.
"South Africa dare not fail," he said, addressing Mr Mandela's coffin a few metres away.
The president allowed himself to speak from the heart, to be vulnerable and speak about a statesman whom he regarded as a friend, thanking his family for giving the nation such a great leader.
What it must be like for Mr Mandela's widow, Graca Machel, to lose another great love is unimaginable.
Ms Machel has previously said she had taken time to love Madiba after the tragic death of her first husband, Mozambique President Samora Machel – but when she finally did, she loved him earnestly.
She refused to leave his side in the months leading up to his death on 5 December, an ordeal that has evidently taken its toll on her.
She sat dazed throughout the ceremony, staring into the distance, next to Mr Zuma and Madiba's ex-wife Winnie Madikizela-Mandela.
But this day was not only about the select few, such as Britain's Prince Charles and US talk-show host Oprah Winfrey, inside the tent.
It was a chance for the people of this modest village to pay their final respects to their most famous son.
Some had expressed unhappiness that the funeral seemed to be open only to the "Who's Who of the world", but still they came in their numbers to the public viewing area.
"I wouldn't have missed this day for anything. I owe Mandela my deepest thanks," said Joel Sereme, who had travelled from Johannesburg to attend the funeral.
Mr Mandela loved this community and after retiring as president he spent most of his time here – he had spoken about his wish to be buried here.
Villagers waited for hours under the searing sun for the arrival of his body on Saturday.
They lined the street carrying the South African flag. One told me that she believes "Mandela's presence here would bring good fortune".
Hundreds watched the proceedings from a big screen, overlooking the Mandela house, a structure of orange bricks and red roof – impressive but not over-elaborate.
Up here you can still hear the wind, the birds chirping in the distance. Pastel-coloured rondavels (round mud huts) are sprinkled across these lush green hills and valleys.
'Dark Christmas'
Life has moved on from the days Mr Mandela herded animals on these hills but in the ways that he cherished, it remains the same – simple.
There were a few moments of laughter when speakers shared stories about the former statesman and his "over-told" jokes.
But apart from a few light moments, the mood felt heavy. Some women wiped their tears with the hems of their traditional skirts.
"I can't explain what this man has done for us. We loved him so much. We will miss him. Our lives will never be the same without him," said Nonzaliseko Mhobe, 48.
The men were equally moved, but they sat quietly, seemingly determined not to show any emotion.
"It's hard but we need to be strong. We need to carry on from where Mandela left off," said Andile Jali, 40.
Everyone inside the tent looked out at the big screen that towered over their heads. Some of the villagers said this would be a "dark Christmas".
Mr Mandela would open up his home to the people here. They would join him for Christmas and he would hand out presents and clothes to children – a habit that has made some here describe him as "Our own Christ".
The ceremony was a blend of a state funeral and the traditions of Mr Mandela's Xhosa culture. A military band escorted the coffin to his grave site, while military jets performed a fly-past.
They flew in special formation, usually done when pilots have lost one of their men – a fitting tribute to democratic South Africa's first president.
As the dark-oak coffin lay at the grave entrance, some in the crowd cried out: "Who will be our father now?"- a sentiment that resonates across the country.
In Qunu, there now lies a permanent reminder that anything is possible, that if South Africa could raise a global icon from such simple surroundings, it can achieve whatever it puts its collective mind to.
And in any case, our hearts would never allow us to forget the gift that was Nelson Mandela.
BBC