PSP officials attack Syrian envoy for criticizing Jumblatt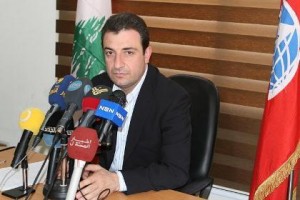 Caretaker Social Affairs Minister Wael Abu Faour launched a scathing attack Saturday against Syrian envoy Ali Abdel-Karim Ali for criticizing Progressive Socialist Party (PSP) leader MP Walid Jumblatt who predicted that the Syrian regime faces an inevitable collapse.
Abu Faour, a key member of Jumblatt's National Struggle Front Parlimentary bloc said: "The Syrian regime murderers will get the fate that they deserve in order for justice and fairness to be achieved for the suffering of the Syrian people."
He added: "Of course, we were not surprised with the resilience of the Syrian regime or with their vast hatred against the Syrian people and the magnitude of the crimes led by its leadership and officers." .
Another key member of Jumblatt's National Struggle Front attacked the Syrian envoy on Saturday.
MP Akram Shehayeb told Ali on Saturday : "Jumblatt and his son are honored to have severed ties with the Syrian regime." He added: "The envoy is a Shabih".
Shabih or Shabiha are violent groups of armed men in civilian clothing who act in support of the Ba'ath Party government of Syria. Several foreign government officials say the Shabiha are a tool of the government for cracking down on dissent." Shabbih " is generally used as a generalized, insulting description of an Assad supporter.
Both Abu Faour and Shehayeb are key PSP officials.
Their remarks come after the Syrian envoy slammed Jumblatt earlier this week and said there were no relations whatsoever between the head of the Progressive Socialist Party and President Bashar Assad, accusing the PSP leader of incitements against Syria , providing shelter for the gunmen and distorting facts.
Ali, who was responding to Jumblatt's remarks that he would not return to Syrian until Assad falls, also said that Teymour, Jumblatt's son, was not welcome in Damascus.
"Reports that the doors of Damascus were open for Jumblatt's son Taymour were not true", Ali stressed
In remarks to French-language daily L'Orient Le Jour, Jumblatt said on Friday: "Neither I nor my son have planned for a single moment to go to Damascus before the regime of Syrian President Bashar Assad collapses and the country is 'liberated'."
Jumblatt's remarks came in response to accusations by the Syrian envoy that the PSP chief had contributed to a campaign against the Syrian regime by twisting facts and protecting armed elements.
"He is a deceptive person," Jumblatt told the daily about the Syrian ambassador.
Jumblatt has voiced support for the Syrian uprising since it erupted nearly three years ago in a change of heart after he had previously aided the Hezbollah-led March 8 coalition in forcing the collapse of former PM Saad Hariri's government in January 2011.