US FCC reconsiders ban on mobile phones on planes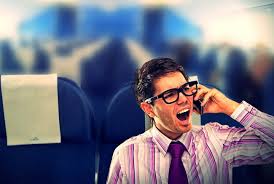 The US communications agency has taken the first step toward lifting a ban on mobile phone calls during flights.
The Federal Communications Commission (FCC) voted on Thursday to launch a public review of the ban, even as its commissioners expressed reservations.
Separately, the head of the Department of Transportation said the department was weighing its own ban.
A recent poll suggested 59% of Americans who flew in the past year opposed allowing calls on planes.
The FCC on Thursday voted 3-2 to open a months-long public comment period.
"There is a need to recognise that there is a new technology," Chairman Thomas Wheeler said. "This is a technical rule. It is a rule about technology. It is not a rule of usage.
"Nothing will be different on your flight tomorrow. We're seeking comments on a proposal."
Use of mobile phones on flights has been prohibited for 22 years out of concern the calls would interfere with cellular networks on the ground, but technological changes have resolved those issues.
Attendant opposition
Mr Wheeler has said he personally would oppose calls on planes, because he was "the last person in the world" who would want to listen to others' phone conversations on a plane.
But lifting the decades-old ban was "the responsible thing to do", he said.
"When the rationale for a rule doesn't exist, the rule shouldn't exist," he said ahead of the vote.
Mr Wheeler said he had called the chief executives of major airlines to assure them the firms would not be required to allow calls on their flights.
He said the decision to ban phone calls on flights should be left to the airlines.
Separately, Transportation Secretary Anthony Foxx on Thursday said the Department of Transportation was inclined to institute its own ban, under its authority to protect aviation consumers.
"Over the past few weeks, we have heard of concerns raised by airlines, travelers, flight attendants, members of Congress and others who are all troubled over the idea of passengers talking on cell phones in flight – and I am concerned about this possibility as well," he said.
A recent poll by the Associated Press news agency suggested that 48% of Americans opposed allowing mobile phone calls during flights. Among those who flew at least once last year, it was 59%.
And 78% of Americans who flew more than four times in the past year said they were against mobile use.
A labour union representing flight attendants opposes the ban's removal, arguing calls could provoke fights among passengers.
In a statement, Delta Air Lines said it would not allow voice calls if the ban were removed, as the airline's customers showed an "overwhelming sentiment" against such a move.
However, the Telecommunications Industry Association, a lobbying group for US mobile phone providers, supports removing the ban, arguing where mobile phones are allowed on planes, calls typically last one to two minutes and often involve only checking voicemail messages.
BBC