Cuba's Raul Castro Reaches Out to Obama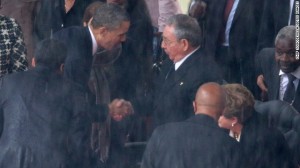 Tuesday's greeting between Obama and Castro comes after six months of quiet diplomacy between the United States and Cuba—and Castro signaling he's ready for bigger talks.
Since the Cuban revolution, the island's ties with the United States have been marred by espionage, near war, sabotage, and deep distrust. But since President Obama came to office in 2009, Cuban leader Raul Castro has signaled that he is interested in a new relationship, according to current and former U.S. officials.
Earlier this year, Castro agreed to host peace talks between Colombia and the FARC, a Marxist rebel group that until recently Cuba and its most important ally, Venezuela, had supported. Last week, Obama praised the Cuban-brokered talks during a state visit with Colombia's president, Juan Manuel Santos.
Meanwhile, behind the scenes, U.S. and Cuban officials have held midlevel discussions in Havana and Washington on a range of issues, including direct postal service, migration issues, disaster response, and search and rescue at sea.
"The Cubans regularly say to people that they are ready for a different relationship," said Dan Restrepo, who served as head of Latin America policy at the National Security Council during Obama's first term.
Restrepo said the intermediaries who have delivered Castro's messages are often U.S. citizens with connections to the Cuban government. But from time to time, other sources said, Latin American diplomats and leaders also have passed on the general message from Castro that he is ready for a bargain.
"There has been a string of emissaries, both private citizens and Latin American leaders, who have begun to nudge Obama forward on engaging in talks with Cuba and also carrying a message from Castro that he's willing to talk," said Steve Clemons, a senior fellow at the New America Foundation who has exceptionally close ties to the Obama White House and accompanied Vice President Biden on his recent tour of East Asia.
But despite these private signals and messages, the relationship may not be ready for a thaw. Indeed, on Tuesday, as Obama and Castro shook hands in South Africa, authorities detained about 20 dissidents in Havana who gathered to demonstrate on International Human Rights Day. While human rights have played no role in the U.S. outreach to Iran in recent weeks, they remain at the center of U.S. policy goals for Cuba. The 1996 legislation that codified the U.S. embargo of the island, known as Helms-Burton, explicitly says the embargo shall not be lifted until Cuba releases political prisoners and holds free and fair elections.
The Obama administration has addressed the human rights tract by deepening its engagement with the Cuban human rights community at the highest levels. In October, Undersecretary of State Wendy Sherman met with Berta Soler, the leader of the Ladies in White, a Cuban human rights advocacy group.
Biden met with Soler in October as well, and tweeted about it. Obama himself met with Soler shortly thereafter while attending a Miami fundraiser, during which he also met with leading Cuban dissident Guillermo Fariñas.
The biggest thorn of late in the relationship has been the 2009 arrest of Alan Gross, a subcontractor for the U.S. Agency for International Development. The Cubans claim Gross was a spy who was trying to foment revolution. The Obama administration has protested the arrest publicly.
Behind the scenes, intermediaries between Cuba and the United States have offered shifting messages about what Cuba would demand in exchange for Gross's release, according to current and former U.S. officials.
Restrepo told The Daily Beast that the price for Gross's freedom has changed over the years. At times the Cubans have asked for an end to U.S. democracy programs in Cuba, he said. More recently, however, Castro's government has suggested it would be open to trading Gross for four Cubans who were arrested in 1998 and convicted of espionage in 2001. A fifth Cuban was released in 2011 and allowed to return to the island this year. In April, Secretary of State John Kerry rejected the offer of a prisoner swap for Gross in testimony before the Senate. Said Restrepo: "If they are still at Gross for the Cubans in a four-for-one trade, the administration has made it clear that that ain't gonna happen."
Members of Congress have pushed particularly hard for the Obama administration to help free Gross. Last month, Foreign Policy reported on efforts in the Senate to press Obama to do whatever he can to secure the 64-year-old's release.
Congress is important to any thaw in U.S.-Cuban relations, as the Helms-Burton Act gives Congress the authority to lift the embargo. "Castro needs more than gestures," said Roger Noriega, a visiting fellow at the American Enterprise Institute and a former senior Bush administration official. When Noriega worked for Sen. Jesse Helms (R-NC), he helped write the Helms-Burton law.
Noriega said Castro needs the embargo lifted but that it is unlikely Obama "could go that far without some kind of meaningful political opening, which the Castros have been unwilling to offer for now."
Others in Congress have asked whether the low-level engagement with Cuba will result in a larger diplomatic breakthrough.
"The administration has set out a path for themselves where they believe that increasing engagement in small amounts will ultimately get them to the final goal of a free, democratic, and open Cuba," said a senior Senate aide. "In the past six months, what we've seen is the administration trying to find these small issues around the edges where they can try to find results to confirm that their path is working. We're still not necessarily getting anywhere. The jury is still out."
In the meantime, leading senators who have made Cuba a key issue have been working to make sure that the administration does not ease the pressure on the Cuban government while it pursues engagement. Twelve senators, led by Robert Menendez (D-NJ) and Marco Rubio (R-FL), wrote to Obama last month to reiterate their view that Gross should be granted unconditional release but noted that the administration would not release the four Cuban spies as a quid pro quo.
In October, Menendez also successfully persuaded the White House to restore its request for democracy and human rights funding in Cuba to the traditional $20 million annual level for the next year. The White House had reduced the request to $15 million both for fiscal 2013 and fiscal 2014 but now has agreed to seek the full $20 million.
Menendez told The Daily Beast in a short interview that he wanted to make sure the programs not only were funded fully but also were working effectively to promote real reform inside Cuba.
"I am seeking some review of elements of Cuba policy that I think are important, regarding democracy and human rights," he said.
As chairman of the Senate Foreign Relations Committee, Menendez has influence over the fates of dozens of Obama administration diplomatic nominees, several of whom are set to be posted in Latin America. His committee has approved the nominations of ambassadors for Brazil, Belize, the Dominican Republic, and Peru in recent months, but nominations are pending for the U.S. ambassadors to Colombia, Trinidad and Tobago, Chile, and Jamaica.
The Daily Beast