Minister Aridi calls minister Safadi "thief"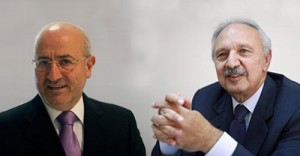 Lebanon caretaker Finance Minister Mohammad Safadi dismissed the accusations made against him by caretaker Public Works and Transportation Minister Ghazi Aridi calling them unfounded.
"All the accusations against me are unfounded," Safadi told Al-Jadeed ( NEW) TV on Monday.
He also slammed the caretaker public works minister's comments as being "a political campaign par excellence."
Earlier on Monday, Aridi accused the Finance Ministry and Safadi in particular of disrupting the allocation of funds for public works throughout the country, including the cleaning of sewers ahead of the winter season.
"I reiterate that I assume responsibility for anything related to the public works ministry," Aridi said during a lengthy press conference he held at his office after being criticized of neglect when roads were swamped with rainwater last week.
Aridi also accused Safadi of embezzling state funds.
"You are the thief," Aridi told Safadi
Aridi apologized to the people who spent hours on the roads when several Beirut neighborhoods and the capital's suburbs were flooded because drains were not cleared.
Both Aridi and Safadi represent the centrist bloc in the cabinet