Islamists seize arms depot of Free Syrian Army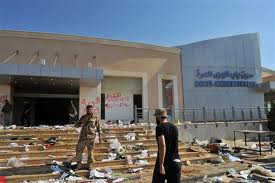 The largest Islamist rebel force in Syria seized arms depots belonging to the mainstream Western-backed Free Syrian Army (FSA) on Saturday, activists said, highlighting tensions among rebel groups.
"After combat that lasted all night, fighters from the Islamic Front captured (FSA) general staff positions near the Bab el-Hawa border crossing (with Turkey) and seized their arms depots," the Syrian Observatory for Human Rights said.
The Observatory said the arms had been brought across the border from Turkey and that five fighters were killed, but it did not say from what side.
The seizure comes four days after the Islamic Front announced that it rejected the authority of the FSA command.
The FSA was the first organized rebel military entity to emerge after peaceful demonstrations against President Bashar al-Assad in 2011 degenerated into an armed uprising.
It was made up of army deserters and civilians.
Since then, numerous other groups have emerged, many of them Islamist, which are operating with a high degree of autonomy from the FSA if not totally independently.
The Islamic Front was formed last month when six groups merged and pledged to work towards forming an Islamic state.
Syria's civil war, which has killed more than 126,000 people and displaced millions, has become more complicated as jihadist and other rebel groups battle not only Assad but, increasingly, each other.
In violence elsewhere on Saturday, at least 12 civilians — among them women and children — were killed in air raids on the jihadist-held northern town of Raqa, the Observatory said.
It also said the civilian toll from Friday air raids on another northern town, Bezaa, had risen to 20, among them eight children and nine women, one of them pregnant.
A member of Lebanon's Shiite Hezbollah, which is fighting alongside Assad's forces, was killed on Saturday in Nabuk, one of the last rebel-held areas of the strategic Qalamoun area bordering Lebanon.
The Observatory said that at least 18 people, including children, have been killed by regime forces in a shelter in Nabuk at an unspecified time, in a new toll a day after reporting 17 deaths.
The opposition National Coalition called the killings "a massacre" and said they were carried out on Friday in the government-controlled Al-Fattah district.
"Assad forces, their mercenaries and sectarian militias carried out a horrible massacre Friday morning… killing dozens of civilians, including women and children who had sought safety in an underground shelter," an opposition statement said.
"After the massacre, regime forces torched the bodies in a bid to conceal their crime."
Taking the Nabuk area would cement regime control of territory linking Damascus province with Homs province to the north.
SBS/AFP