Obama: U.S. can't fully trust the Iran regime leadership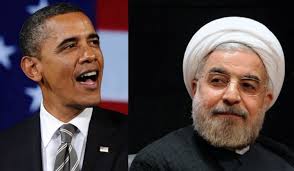 President Barack Obama, defending his recent overtures to Iran, said that while the U.S. can't fully trust the regime's leadership he is committed to testing whether diplomacy can prevent the country from getting a nuclear weapon.
"The best way for us to assure it, is to test this diplomatic path, understanding that it's not based on trust, it's based on what we can verify," Obama said at a forum on U.S.-Israel relations in Washington. "If we can't get there, then no deal is better than a bad deal."
Obama's comments come as tensions between the U.S. and Israel are running high over disagreements on Iran and security concerns tied to efforts to broker a peace deal with the Palestinians.
The U.S. and five other world powers, in an interim deal concluded Nov. 24 in Geneva, set a six-month timetable to reach a comprehensive accord with Iran, denying it a nuclear-weapons capability in return for reducing sanctions. Iran says its nuclear program is for peaceful purposes, not weapons.
Obama said that the U.S. commitment to Israel's security is "sacrosanct" and the Iranians "understand that." He pledged that, even with the accord, the U.S. would work to contest Iran's behavior that continues to be "detrimental" to the U.S. and to Israel.
Such efforts, Obama said, allow the U.S. to defeat some of Iran's agenda in the region "without worrying that somehow it's going to escalate or trigger a nuclear arms race in the most volatile part of the world."
Kerry's Talks
Secretary of State John Kerry in July brought the Israeli and Palestinian leaders together for the first set of formal negotiations in three years and set a May target to reach a final accord. That effort could be complicated by recent progress toward an Iran accord.
Kerry, while in Israel earlier this week for talks between Israeli and Palestinian leaders, lauded progress on negotiations. Without providing details, he said the two sides are the closer to an accord they've been in years. Kerry later today will address the Washington forum, sponsored by the Saban Center for Middle East Policy at the Brookings Institution, a Washington policy research organization.
Israeli Prime Minister Benjamin Netanyahu, who has called the deal a "historic mistake" will address the forum tomorrow via satellite from Israel.
Netanyahu has said his willingness to make "historic compromises" in peace talks with the Palestinians is linked to a full resolution of the Iranian nuclear issue, which he describes as presenting an existential threat to his nation. Netanyahu has since toned down his criticism, saying that any final pact must dismantle Iran's ability to produce nuclear weapons.
Obama spoke during a question and answer session with billionaire entertainment executive Haim Saban, a democratic donor. Obama last month attended a $16,200 per plate fundraiser for the Democratic Senatorial Campaign Committee and the Democratic Congressional Campaign Committee at Saban's Beverly Hill estate.
Business Week