Obama, Bush, Clinton to attend Mandela services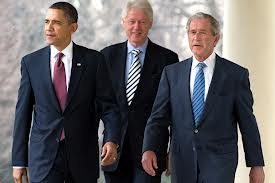 US President Obama will travel to South Africa next week to attend services for Nelson Mandela, the White House said Friday.
"President Obama and the First Lady will go to South Africa next week to pay their respects to the memory of Nelson Mandela and to participate in memorial events," said White House spokesman Jay Carney.
He did not say whether Obama would attend a large memorial service on Dec. 10 or a private burial service on Dec. 15, or both.
"We'll have further updates on timing and logistics as they become available," Carney said.
At least two former presidents — George W. Bush and Bill Clinton — will also fly to South Africa next week for Mandela memorials.
George W. Bush's office confirmed that he will be flying to South Africa aboard Air Force One with Obama. Obama also invited Bush's father, former President George H.W. Bush, but the 89-year-old Bush will not be able to make such a long trip, his office said.
Clinton told CNN that he and former Secretary of State Hillary Rodham Clinton will also be traveling to South Africa.The other living ex-president — Jimmy Carter — may accompany Obama as well.
Details of the trip, including the dates, were still being worked out as of Friday night.
The services are included in a 10-day mourning period in South Africa, where Mandela waged a successful battle against the country's apartheid government and became its first black president.
Obama has directed that American flags be lowered to half-staff through Monday in honor of the freedom fighter who died Thursday at age 95.
In a brief eulogy on Thursday, Obama — the first African-American president in U.S. history — said that "I am one of the countless millions who drew inspiration from Nelson Mandela's life."
Obama issued a written proclamation saying that "the United States has lost a close friend, South Africa has lost an incomparable liberator, and the world has lost an inspiration for freedom, justice, and human dignity — Nelson Mandela is no longer with us, he belongs to the ages."
Mandela "transformed South Africa — and moved the entire world," Obama wrote. "His journey from a prisoner to a President embodied the promise that human beings — and countries — can change for the better."
The resolution said: "While we mourn his loss, we will forever honor Nelson Mandela's memory. He left behind a South Africa that is free."
Bill Clinton, who enjoyed a close relationship with Mandela, recalled on CNN meeting the South African leader for the first time at the 1992 Democratic National Convention in New York City. Hillary Clinton attended Mandela's inauguration as South Africa's president in 1994.
The former president said that Mandela taught him that "if you're in public life and you have public responsibilities, you cannot be free and effective unless you have no personal feelings of anger."
Clinton said Mandela was "a genuine friend to me and he was a really fine partner as president. So my whole family will be there (in South Africa). And we're looking forward to having the chance to say good-bye once last time."
USA Today