Yemeni Defense Ministry Attacked. 25 killed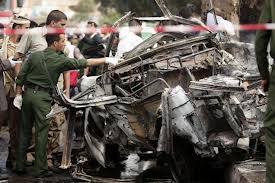 Assailants in military uniforms Thursday crashed an explosives-laden vehicle into the gates of the Defense Ministry, causing multiple casualties, security sources said.
The strike, in a crowded and bustling part of the capital, then set off a chaotic firefight involving heavy weapons and at least one secondary blast, according to officials and witnesses.
Military and hospital officials put the death toll at 25.
Windows were shattered for blocks around in the district, which is also home to the country's central bank.
Army vehicles and ambulances converged on the scene. The attack came as many people were on their way to work.
The brazen daylight attack bore the hallmarks of Al Qaeda, whose fighters have staged similar assaults, using assailants wearing military uniforms to cause momentary confusion when hitting military installations.
Yemen, whose longtime president, Ali Abdullah Saleh, was ousted in 2011 during the uprisings that spread throughout the Arab world, has been buffeted by violence in recent months.
The interim government is trying simultaneously to cope with a breakaway movement in the south, an Al Qaeda-inspired militancy and a separate rebellion in the north.
LA Times