Jumblatt slams Hezbollah accusations against Saudi Arabia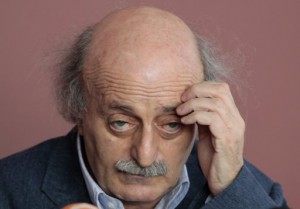 Progressive Socialist Party leader MP Walid Jumblatt slammed Hezbollah chief Sayyed Hassan Nasrallah's accusation that Saudi Arabia was linked to attack against the Iranian embassy in Beirut saying that the party should have at least waited for the facts to be revealed.
"The accusations would drag Lebanon more into regional conflicts that may once again lead it to being turned into an open ground for settling their scores," Jumblatt warned in a statement Thursday.
He added that Israel should have been accused of perpetrating the blasts instead of Saudi Arabia.
It was better to accuse Israel of the crime, similar to the what Iran did, instead of laying blame on Saudi Arabia, keeping in mind that such accusations may lead to more tensions in Lebanon."
Jumblatt urged that judicial authorities are given enough time to uncover the perpetrators.
"We demand that the concerned judicial authorities be granted enough time to perform their duties in uncovering all those involved in security attacks, bombings, and assassinations," Jumblatt continued.
Jumballt's remarks come after Nasrallah linked Saudi Arabia to the November 19 bombings that left 25 people dead outside Iran's embassy in southern Beirut.
"We believe the statement in which the Abdullah Azzam Brigades claimed responsibility for the attack on the Iranian embassy, because it is a well-known group and its emir is Saudi and it is linked to the Saudi intelligence," Nasrallah stated in an interview on OTV.
Saudi Arabia has denounced the attack on the Iranian embassy.