Aoun wants a strong president, may nominate Geagea !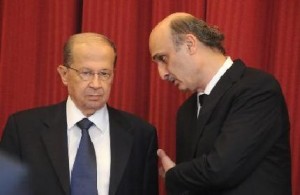 Free Patriotic Movement leader MP Michel Aoun said a new president should be elected with the largest possible majority.
Aoun's remark was seen as a response to Marada movement leader MP Suleiman Franjieh , a stanch ally of Syrian President Bashar Assad who called on October 10, 2013 for electing a new president by simple majority instead of the two thirds majority.
"Electing a president with a simple majority is dangerous," Aoun said in remarks published by An-Nahar newspaper on Saturday.
"The president should enjoy the widest possible consensus. He is unable to rule with a two-thirds majority, let alone 51 percent."
The FPM leader also voiced his rejection to any extension of the term of President Michel Suleiman, saying that it would be akin to "an extension of the political vacuum."
He also criticized Lebanese Forces leader Samir Geagea for opposing his candidacy.
"Geagea said that he is against my nominating him. He, as well as us, wants a strong president, and he considers himself a strong leader I will therefore nominate him."
While reiterating his decision to refrain from nominating himself for the presidency , Aoun said that he would backtrack on the decision "if the decision makers in this issue wanted me."
Aoun also linked the formation of a new government and the election of a president.
"The solution is through the formation of a new government. No government, no presidential elections."
Aoun renewed his criticism of Caretaker Prime Minister Najib Mikati over his policies in the resigned cabinet.
On Tuesday, the FPM chief called on Mikati to "leave the Grand Serail." He accused him of disassociating himself from local events.
Suleiman's six-year term ends in May 2014. He has repeatedly said that he is against the extension of his own term. Extension of Suleiman's mandate is virtually ruled out as the Hezbollah-led March 8 alliance is reported to be opposing it. Extension of the president's mandate requires a two-third majority of MPs in the 128-member legislature.
There are major concerns that differences and lack of consensus among rival political parties would prevent the parliament from meeting and would lead to a vacuum in the presidency.
Meanwhile, Lebanon is still struggling to install a new cabinet, months after the resignation of caretaker Prime Minister Najib Mikati. Premier-designate Tammam Salam cited the pre-conditions imposed by the opposing March 14 and March 8 blocs as a reason behind the delay in the formation process.
Last June the Lebanese Parliament extended its own term until November 20, 2014 because of deteriorating security conditions related to Syria's turmoil and because it was unable to agree on an electoral law.
According to some analysts come November 20, 2014 lebanon could still be without a parliament, without a president and without a cabinet. Other analysts are of the opinion that the recent American-Iranian accord could produce the consensus need for the election of a new president.