UN: Syrian refugee children face 'catastrophic' life in exile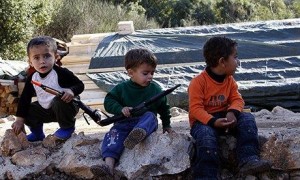 Hundreds of thousands of Syrian children already traumatised by war are facing a life of "catastrophe" in exile, without education or normal childhood freedoms, the UN refugee agency has warned.
Child labour is a huge problem across the refugee communities of Jordan and Lebanon, with children as young as seven taking on the role of breadwinner for their fractured families.
More than a million Syrian children are refugees, most of them in neighbouring countries. The report, the Future of Syria: refugee children in crisis, published by the UNHCR on Friday, involved four months of research across Jordan and Lebanon, speaking to children and the international workers supporting them.
Registration workers at refugee camps are used to recognising the signs of acute distress or depression in the children and families they register each day. Sheeraz Mukhaimer, a case manager with the International Medical Corps, described children telling her about seeing family members killed and then having to bury the bodies. Parents report children suffering sleep problems, flashbacks to the war, bedwetting and speech difficulties. Constant crying is common.
Volker Türk, director of international protection at UNHCR, says the scale of the unravelling crisis is what sets it apart from other refugee situations. "In terms of numbers, we are talking about a crisis of major proportions. Over 1 million children, it's the sheer magnitude of it. One striking feature is the impact on the psychosocial wellbeing of children. They are severely traumatised children coping with things adults would find difficult to cope with."
As families fall apart, tens of thousands of Syrian children are living without their fathers. In a female-headed household, a male child is likely to be sent out to work. Child labour is illegal in Lebanon and Jordan, but children are commonly taking menial work for low pay. Their meagre wages are sometimes the family's only source of income.
A previous report by the UN children's agency, Unicef, published in March, estimated that one in 10 Syrian refugee children in the region is engaged in child labour. In Jordan Valley, the agency found that 1,700 out of 3,500 school-aged children (nearly 49%) were working.
An inspector at the Jordanian ministry of labour, Maysoon Al Remawi, told the Guardian that refugee children were directly competing with Jordanian adults.
"Syrian children work in larger numbers than Jordanians due to their culture – 60-70% of child labour in Jordan is made up of Syrians, according to our estimates," he said. "They have higher skills than Jordanians and therefore compete with Jordanians on the same market segment… Syrian children work in sectors Jordanians would want to work in and are as much of a competition as adult Syrians."
The Guardian spoke to a number of young people who are forced to work in Irbid, near Jordan's border.
Samir works all night, six nights a week, cleaning and making tea in a pool hall. He is 13 and was at school in Syria, but now the family has no option but to send him to work.
For his 12-hour shift he earns about $4, but even this tiny income is desperately needed. His father was killed when a bomb hit their house in Homs, leaving his mother paralysed. His 15-year-old sister has been married off to a 50-year-old Syrian man, because his mother thinks this is the best chance she has of a normal life.
Samir works hard for his money. "I offer coffee, tea and clean the tables between six in the evening and five in the morning. I don't get a break, but if it's quiet I will sit down," he told the Guardian.
Hassan, 14, is the eldest of four children, who now live in an apartment in Irbid with their father. They are from Daraa in Syria. Hassan sells books on the street, because his father can't work. "He was shot in the leg, sometimes he tries to work one or two days," he says.
Hassan works a 14-hour day to provide for his family, running a book stall for a man he says is good to him. He earns $5 a day.
"When it's quiet I rest, but he doesn't give me a break. The man is nice to me, he brings me two meals a day … Sometimes I get half a dinar extra, which I keep myself. We pay JD250 ($350) for rent, we cannot pay every month. The landlord tells us, if you don't pay I will kick you out."
While boys are sent to work, many girls described startling levels of isolation and loneliness. Almost a third (29%) of children said they left their homes only once a week. One father in Zaatari refugee camp was so worried about the safety of his daughters he made them stay in their tent for the entire month they lived in the camp. Noor, 13, and her sister passed the time playing with rocks.
Despite a massive effort by international NGOs and the governments in Lebanon and Jordan to support the children and provide them with education, more youngsters are out of school than in it. The number of Syrian school-aged children in Lebanon is soon likely to exceed the number of Lebanese children who were enrolled in the public system last year.
Türk says the infrastructure in the host countries cannot expand indefinitely. "Lebanon and Jordan have been extremely generous about this," he says. "The problem is of course that we need different shifts – children going at different times of the day. There are very overcrowded classes and a need for double the number of teachers."
The UNHCR is calling for more support for Jordan and Lebanon as they struggle to provide for Syrian children. One fear among humanitarian agencies is that countries will begin to close their borders if this support does not materialise.
Türk says there needs to be more visible solidarity for Syria's neighbours from the international community, including offers of resettlement in Europe for the most vulnerable refugees. "I was very taken by the incredible amount of generosity I saw on the part of both Lebanese and Jordanian families … but the longer the crisis lasts, the more it is a burden. We have to support the host communities.
"The longer it goes on, the less people envision their future in Syria itself – there is a tipping point. We need to constantly reinvigorate the hope that there is as solution in sight, and that people will … when the conflict is over, be able to go back."
The Guardian
Photo: Syrian children play with plastic weapons in southern Lebanon. More than a million Syrian children are refugees. Photograph: Nabil Mounzer/EPA