Berri : We're in full harmony with Hezbollah on all issues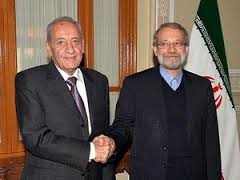 Lebanon Parliament Speaker Nabih Berri told Iran's Supreme leader Ayatollah Ali Khamenei whom he met during his trip to Tehran that he and Hezbollah Secretary General Sayyed Hassan Nasrallah are in full harmony on all issues, according to a report by Hezbollah's Al Manar website.
As-Safir newspaper reported that Khamenei was extremely pleased with Berri and told him: "You are succeeding because you are united. The steadfastness of Iran, the resistance and opposition played a decisive role in the results achieved in the nuclear issue. We triumphed and we will achieve more victories."
As Safir did not elaborate why khamenei thought the resistance played a decisive role in the negotiation on the Iranian nuclear deal.
Berri who is in Iran on an official visit arrived in Tehran on Sunday. On Monday he met with with Khamanei, Parliament Speaker Ali Larijani and President Hassan Rouhani.
During the talks, Berri brought up the subject of Lebanese Imam Sayyed Moussa al Sadr, founder of the Amal Movement who along with his two companions, Sheikh Mohammad Yacoub and journalist Abbas Badreddine went missing in Libya on August 1978 , and expressed hope that Iran would help in the case.
During a speech on Aug. 31 to mark 35 years since Sadr's disappearance, Berri said Libyan authorities were procrastinating in the case.
He said that although the Amal Movement, which he heads, had backed the Libyan uprising against Gaddafi from the first moment, the new Libyan authorities were not interrogating Libyan officials they arrested after the fall of the regime in order to determine the whereabouts of Sadr and his two companions.
On Tuesday, he met with former Iranian President Akbar Hashemi Rafsanjani and other Iranian officials.
National News Agency reported that Berri called for repairing ties between the Islamic Republic and Arab neighbors, during his meeting with Rafsanjani , an ally of president Rouhani .
During his meeting with President Rouhani the talks focused on the current regional and international situations and the nuclear deal between Iran and world powers. Rouhani told Berri he hoped the visit will "contribute to enhancing ties between the two countries," underlining Iran's keenness on Lebanon, according to the National News agency.