Car used in Iran embassy attack likely rigged in Syria, report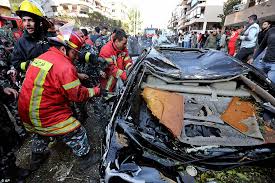 Lebanese Judicial authorities believe that the car bomb used in the suicide attack that targeted last week the Iranian embassy in the southern Beirut neighborhood of Bir Hassan Beirut was most likely rigged in Syria, a judicial source was quoted as saying on Monday.
"There is no confirmation yet," the source was quoted by The Daily Star newspaper as saying "but the Judicial authorities believe the Chevrolet Trailblazer laden with 50 kilograms of explosives was booby trapped in Syria."
The source said the first suicide bomber, Mouin Abu Dahr who blew himself up with an explosive belt outside the Iranian Embassy last Tuesday, had arrived at the scene in the bomb-laden car and not on a motorcycle as reported earlier.
Abu Dahr, whose father is Sunni and mother is Shiite, was a resident of the southern port city of Sidon and a strong supporter of Salafist cleric Sheikh Ahmed al-Assir.
The source said footage obtained from security cameras showed Abu Dahr stepping out of the Trailblazer and walking toward the embassy in Bir Hasan, where he blew himself up, killing the embassy's cultural advisor and several guards.
The bomb plot, according to Hezbollah Chief Hassan Nasrallah , was masterminded by "highly professional people" . He told Al-Akhbar newspaper in a report published on Monday that the attack had been "meticulously planned."
Those who planned the attack knew the embassy building stone by stone." He said and added that the aim of the attack was to kill the Iranian envoy and the Iranian chargé d'affaires.
The second bomber was identified as Adnan Mousa Mohammad, a Palestinian who lives in Zahrani near Sidon in south Lebanon. He too was a strong supporter of Sheikh al-Assir.
Caretaker Defense Minister Fayez Ghosn told Al-Jadeed television on Sunday it is possible that more than two perpetrators were involved in the bombings.
"There might be a third and a fourth person who participated in the operation… It was the result of careful intelligence work." He said.
The Iranian embassy will remain the target of more attacks," Al-Akhbar on Monday quoted Nasrallah as also saying.
The death toll of the deadly attack rose from 25 to 29 according to security sources. More than 150 people were also wounded in the bombings.
An al-Qaida-linked group, the Lebanese Abdullah Azzam Brigades, claimed responsibility for the attack, and said it was avenging Hezbollah's military involvement in Syria.
Hezbollah has been openly backing troops loyal to President Bashar Assad against the rebels seeking to topple him, despite the Baabda declaration which calls for distancing Lebanon from the regional conflicts .