Berri shocked that embassy bomber is from south Lebanon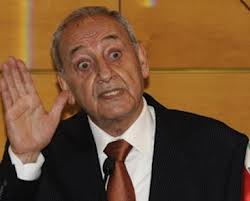 Lebanon Speaker Nabih Berri told An Nahar daily in a report published on Sunday that he was shocked when he found out that one of the suicide bombers that attacked the Iranian embassy in Beirut on Tuesday was from southern Lebanon.
Officials quoted Berri as saying that he had hoped the two bombers would not be Lebanese to avoid widening the gap between the rival parties, the report added
Sidon is the home town of Moein Abu Dahr, the Lebanese suspect in the deadly bombing attack of the Iranian embassy in in the Bir Hassan neighborhood of Beirut's southern suburbs.
The other suspect is Adnan Mohammed, a Palestinian from the Ain el-Hilweh refugee camp and a staunch supporter of Salafist cleric Sheikh Ahmed al-Assir.
Caretaker Defense Minister Fayez Ghosn told Al-Jadeed television on Sunday it is possible that more than two perpetrators were involved in the bombings.
"There might be a third and a fourth person who participated in the operation… It was the result of careful intelligence work." He said
Mohammed lived in the south Lebanon town of Zahrani which is located near Sidon.
When Berri found out the identity of Abu Dahr and that he was from Sidon, he said he was "shocked." Officials quoted him as saying
"The south has never produced such men in its history," Berri said.
An al-Qaida-linked group, the Lebanese Abdullah Azzam Brigades, claimed responsibility for the attack, and said it was avenging Hezbollah's military involvement in Syria.
Hezbollah has been openly backing troops loyal to President Bashar Assad against the rebels seeking to topple him, despite the Baabda declaration which calls for distancing Lebanon from the regional conflicts .
Ali Hussein a Lebanese observer commented on Berri's shock by saying :
"I am against violence of all types but I am shocked that Berri is shocked . Shouldn't he have been more shocked when he found out that the five killers of former PM Rafik Hariri were from south Lebanon. Shouldn't he be more shocked that Hezbollah still refuses to hand over the killers to the Special Tribunal for Lebanon. "