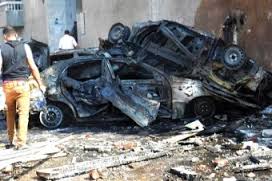 A suicide car bomb hit a bus convoy of off-duty Egyptian soldiers in the Sinai Peninsula on Wednesday, killing 11 and wounding 37, in the latest of a stepped-up wave of attacks blamed on Islamic militants sympathetic to ousted President Mohammed Morsi.
The mounting insurgency in the restive Sinai has sent security and intelligence agencies scrambling for new tactics to thwart future attacks and protect themselves amid signs of the violence creeping into other parts of Egypt, particularly the capital, Cairo.
Among the attacks that have raised alarm was the killing of a senior security officer who monitors Islamist groups, gunned down in his Cairo neighborhood Sunday night. At dawn Wednesday, assailants threw a grenade at a police checkpoint in a northern Cairo suburb, injuring four policemen, according to security officials said. The assailants fled the scene, said the officials.
The violence has prompted a shakeup within security agencies' ranks, including a hunt for possible Islamist "moles" amid officials' suspicions that Morsi's Muslim Brotherhood is linked to the violence — an accusation the group denies.
Nearly two dozen employees with sensitive posts in the Interior Ministry, which is in charge of police, are being probed for Brotherhood sympathies or for providing information to the group, according to senior security and military officials with first-hand knowledge of the discussions inside the agencies. Also, security officials who were removed or transferred from key positions during Morsi's year-long presidency are being reinstated, according to the officials, who spoke on condition of anonymity to talk about the agencies' workings.
The surge in militant violence harkens back to the Islamic insurgency in the 1980s and 1990s, when militants — mainly based in southern Egypt — fought Hosni Mubarak's government to install a purist Islamic state. The militants were eventually crushed by a fierce security crackdown that helped solidify the police state under Mubarak.
For several months, the military has been carrying out intensified raids in the towns and villages of northern Sinai, hunting for militants.
In Wednesday's attack, a convoy of four army buses was transporting soldiers taking battlefield breaks along a main road linking the provincial capital el-Arish with the town of Rafah, on the border with Gaza. The soldiers in the convoy belonged to the 2nd Field Army, which is doing most of the fighting in the Sinai anti-militant campaign.
An explosives-laded car with two people in it rammed into the lead bus and exploded, military spokesman Mohammed Ahmed Ali said in a staement.
Military chief Gen. Abdel-Fattah el-Sissi attended a ceremony as the bodies of the soldiers were bought to a Cairo military airfield.
"This treacherous attack only increases our resolve, and we will not allow those who raise arms to destroy this nation or repress its people," he said as he gave condolences to families of the dead, according to a military statement.
There was no immediate claim of responsibility for Wednesday's attack, but suicide car bombings are a signature method by militant groups linked to or inspired by al-Qaida.
The northern Sinai region, which borders Gaza and Israel, has been restless for years. But attacks have grown more frequent, deadlier and bolder since Morsi's ouster. In August, gunmen pulled 25 police conscripts off minibuses in the Sinai and shot them dead. There have also been a number of suicide attacks — a tactic rarely seen during the 1990s Islamic insurgency.
The violence has also moved into other parts of the country, including Cairo.
In September, Interior Minister Mohammed Ibrahim survived an assassination attempt by a suicide car bomb in Cairo. The same month, suspected militants fired rocket propelled grenades at the main ground satellite station in Maadi, a suburb south of Cairo.
In an online video posted Tuesday, a militant group, Ansar Jerusalem, claimed responsibility for Sunday's slaying of the security officer, police Lt. Col. Mohammed Mabrouk. The group said the killing was in retaliation for the recent arrest of female Morsi supporters.
The group previously claimed responsibility for the assassination attempt against Ibrahim and other attacks.
The new insurgency and the crackdown against it are taking place in the midst of the struggle between Morsi's Islamist backers and the new military-backed government since the ouster of Egypt's first freely elected president in a July 3 coup prompted by massive protests against him.
The Brotherhood has led protests demanding his reinstatement, though their rallies have dwindled under the weight of a fierce crackdown by security forces that has killed hundreds of Morsi supporters.
Clashes broke out late Wednesday between pro-Morsi protesters in Al-Azhar University in Cairo and the police after students attempted to block the main street outside campus. Police fired tear gas to disperse the students, who were protesting the arrest of two dozen colleagues during a rally earlier in the day. One student was killed in the clashes, according to head of emergency services Ahmed el-Ansari.
Several thousand Brotherhood members, including top leaders, have been arrested, some of them — including Morsi — are on trial on charges of inciting violence.
The Brotherhood denies any connection to violence. Still, Morsi supporters were blamed for a string of retaliatory attacks soon after the crackdown began, particularly attacks on churches and government buildings. Brotherhood officials say they are not connected to militant groups in the Sinai, but some Brotherhood leaders publicly warned that Morsi's ouster would spark a backlash from extremists in the peninsula.
The senior military and security officials said Mabrouk's killing and September's assassination attempt against Ibrahim have sparked a series of urgent meetings by leaders of the security and intelligence agencies to decide on new tactics to combat the rise number of attacks.
Already, they have stepped up security at military bases, with sand barriers erected at the gates, new watchtowers, security cameras and signal-jamming devices to disable remotely controlled bombs, said the officials. Officers from the General Intelligence Directorate and National Security agency were told to take extra security precautions, including changing their cars' number plates or buying new cars. Files on personal data of officers were being placed under tighter security, they said.
Another objective of the new policies, the officials said, is to gauge the extent of involvement by Brotherhood leaders, including those in detention, in the wave of attacks. One area of major concern, said the officials, is that Brotherhood leaders gained access to sensitive information and files during the year Morsi was in power.
The officials said they are considering enhanced monitoring for visits received by Brotherhood leaders in jail and reinforcing teams specializing in monitoring and infiltrating Islamist groups.
Officers with expertise in Islamic militancy who were removed from the General Intelligence Directorate during Morsi's presidency have been approached with offers of getting their jobs back, they said.
Morsi replaced the General Intelligence chief, Murad Muwafi, soon after he took office in June 2012. Morsi's appointee, Mohammed Raafat Shehatah, was removed soon after Morsi's ouster, replaced by Farid el-Tohamy, a close associate of el-Sissi.
Bloomberg