Iran unveils its new 'biggest' drone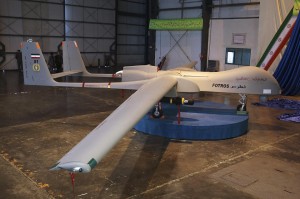 Iran says it has developed a drone with a range of 2,000km (1,200 miles), which would enable it to cover much of the Middle East, including Israel.
The Islamic Republic's Defense Minister said the unmanned aircraft could carry out reconnaissance missions or launch missile strikes.
Hossein Dehghan said sanctions imposed by "enemies" would not stop progress.
Iran's claims of developments in defense technologies cannot be independently verified.
Tehran said the new drone, called the Fotros, was its biggest yet and was capable of being airborne for up to 30 hours.
While the US use of drones for intelligence gathering and missile strikes as part of its war on terror has been widely reported, many other countries – including China – now have unmanned aerial vehicles (UAVs).
The BBC's diplomatic correspondent, Jonathan Marcus, says Iran is eager to play up its defense capabilities for propaganda reasons – but may not possess the sorts of sophisticated intelligence capabilities needed to direct UAVs to their targets.
Sanctions have been imposed on Iran because of its failure to halt uranium enrichment.
Western nations fear the country is developing a nuclear weapons program ; Iran maintains that its nuclear research is purely for peaceful purposes.
BBC