20 Hezbollah fighters killed in Qalamoun, Syria battles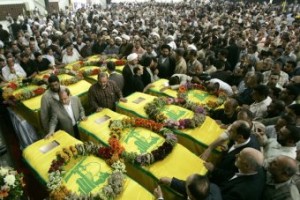 Lebanese media reported that twenty Hezbollah fighters were killed during the past 24 hours and mainly in the al Qalamoun mountains , north of Damascus and near the borders with Lebanon.
According to the reports Hezbollah will arrange the funerals for four to five fighters at a time.
Yesterday Hezbollah arranged the funeral of Akram Sadek al Hawrani, one of the fighters that were killed in Syria in al Qalamoun. He was buried in the town of Ain Baal east of the city of Tyre ( Sour). Hezbollah MP Nawaf al Mousawi and several other Hezbollah officials reportedly attended the funeral .
Hezbollah fighters have been helping the the Syrian regime of President Bashar al-Assad in its crackdown against the mostly Sunni rebels seeking to overthrow the regime. The rebels accused Hezbollah of invading Syria and vowed to move the war to Lebanon.
Hundreds of Hezbollah fighters have reportedly been killed in Syria and buried in Lebanon. Over 120,000 have been killed so far in the increasing sectarian Syrian civil war according to activists.