Photographer Shot at French Newspaper Office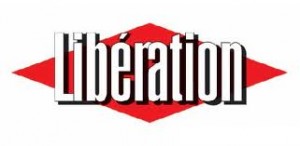 A gunman opened fire in the lobby of a French newspaper office in Paris on Monday, gravely wounding a photographer's assistant before fleeing. Soon afterward, shots were fired at the headquarters of a major French bank west of Paris, and a gunman briefly took a man hostage nearby.
The Paris police headquarters said that it is not clear whether the three incidents are linked, but that authorities are increasing security in all three places as well as media offices around Paris. As police hunt for the attacker or attackers, a helicopter is flying over the neighborhood that includes the French president's office and the nearby Champs-Elysees avenue.
The motivation behind all three attacks is unclear.
The shooting at the offices of prominent daily newspaper Liberation came three days after a shooting at the BFM-TV news network in Paris that is still under investigation.
Police and representatives of Liberation say a 27-year-old photographer's assistant is in serious condition after being shot in the chest and arm. The culture minister called the newspaper — an outspoken left-leaning voice founded by Jean-Paul Sartre that has seen financial difficulties and layoffs in recent years — a "pillar of our democracy."
Witnesses reported the gunman said nothing during the brief time he was in the lobby Monday morning soon after 10 a.m. Yoann Maras of the police union Alliance said the gunman fired a pump-action rifle.
Less than two hours after the shooting at Liberation, three shots were fired in front of the headquarters of bank Societe Generale in the Paris suburb of La Defense, according to Paris police. Societe Generale, based about 10 kilometers (6 miles) northwest of the Liberation offices, said in a statement that a lone gunman opened fire in front of the building, and no one was hurt.
And very soon after that, a man called police to say he had been taken hostage by a gunman in the town of Puteaux, next door to La Defense. Police said the gunman forced his hostage to drive six kilometers (3½ miles) back toward central Paris, and then let him go on the Champs-Elysees, a chic and busy shopping thoroughfare.
Police are searching the neighborhood and other sites around the French capital, the Paris police headquarters said.
The government positioned police at all major media organizations in Paris, according to Interior Minister Manuel Valls. BFM-TV said authorities were comparing Monday's surveillance footage with video taken Friday, when an armed man fired a weapon and threatened journalists in the news network's lobby before fleeing. The bullet casings are also being compared.
President Francois Hollande, said in a statement he ordered authorities to "mobilize all means to clarify the circumstances of these acts and arrest the perpetrator or perpetrators." Media watchdog Reporters Without Borders denounced the attacks on the journalism facilities.
ABC/AP