U.N.: Iran Has Virtually Frozen Nuclear Program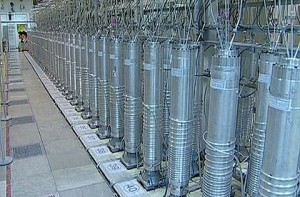 Iran has virtually frozen the expansion of its vast nuclear program since President Hasan Rouhani took office in August, the United Nations reported, potentially aiding diplomacy between Tehran and global powers that resumes next week.
After installing thousands of new centrifuge machines earlier this year, Iran added only four at its two uranium-enrichment sites during the past three months, according to the International Atomic Energy Agency, the U.N.'s nuclear watchdog.
Tehran also didn't put in place any major new components at the heavy-water reactor it is constructing in the city of Arak. Once completed, the facility will be capable of producing plutonium usable in nuclear weapons within a year.
Mr. Rouhani's government kept its stockpile of near weapons-grade nuclear fuel at below 250 kilograms, the amount required to produce one nuclear weapon if processed further, according to the IAEA. Israeli Prime Minister Benjamin Netanyahu has threatened to attack Iran's nuclear facilities if Tehran crosses this red line.
"This report indicates that Iran has made the political decision to pause the expansion of its enrichment capabilities," said the Arms Control Association, a Washington think tank, in a report released Thursday. "It could quickly reverse course and nearly double its numbers of operating centrifuges."
Israeli and Arab officials have voiced deep skepticism in recent days over Mr. Rouhani's overtures.
They say that Iran has already developed such a vast infrastructure for nuclear-fuel production that it may soon be able to make a quick dash to producing enough weapons-grade uranium for a bomb. They suspect the country is committed to developing a nuclear-weapons capability.
Nevertheless, a senior administration official said it is a positive sign that Iran isn't moving forward with those installments and helps talks when the Iranians aren't taking provocative steps, though the official added the U.S. can't ascribe motivation to the moves.
"It is positive but at the same time, it isn't a substitute" for getting agreement on a first phase of a deal, the official said.
The IAEA's quarterly report on Iran came as global powers—made up of the five permanent U.N. Security Council members plus Germany—prepare to resume negotiations with Iran next week in Geneva. The talks are aimed at preventing Tehran from eventually developing a nuclear weapon in exchange for a loosening of international sanctions.
A negotiating round this month nearly reached an accord, but broke down in the final stages because of continued concerns about the status of the Arak reactor and the numbers and capacity of Iran's centrifuges, according to American and European officials who took part in the talks.
President Barack Obama, Secretary of State John Kerry and other administration officials said they were hopeful that an interim agreement to contain Iran's nuclear work can still be reached. They also cautioned U.S. lawmakers against imposing new sanctions on Iran's oil exports and banks while the diplomacy gathers momentum.
"If we're serious about pursuing diplomacy, then there is no need for us to add new sanctions on top of the sanctions that are already very effective and that brought them to the table in the first place," Mr. Obama said at a news conference at the White House. "Now, if it turns out they can't deliver, they can't come to the table in a serious way and get this issue resolved, the sanctions can be ramped back up."
Some American lawmakers and key U.S. allies including Israel and Saudi Arabia are concerned an agreement won't go far enough in preventing Tehran from acquiring nuclear weapons, which Iran denies it is seeking.
Members of Congress and these allies are pressing the White House for a complete suspension of Iran's uranium-enrichment program and the dismantling of Arak in exchange for sanctions relief. But U.S. officials have indicated that such demands are unlikely to be enforced in an initial agreement with Iran.
The IAEA report tracked a significant slowing of Iran's nuclear work since August. President Rouhani took office that month pledging to end Iran's standoff with the West over the nuclear issue.
The IAEA said Iran added only four centrifuges to the more than 10,000 currently in place at the uranium-enrichment facilities in the cities of Natanz and Qom.
Perhaps most important to the West, Iran didn't install any of its more advanced centrifuges, called the IR-2Ms, since August. These machines are believed to be capable of cutting by a third the time required to produce nuclear fuel.
The IAEA also outlined it its report the details of an agreement reached last week with Iran that will allow for more expansive monitoring of the nuclear program.
In particular, the Vienna-based agency said it would gain access over the next three months to some of Iran's uranium mines, the Arak heavy water reactor, and the detailed plans for new enrichment facilities Iran says it is building.
The IAEA, however, has still failed to gain Iran's approval to visit a military site south of Tehran, called Parchin. The U.N. suspects the site may have been involved in testing explosives triggers used in producing atomic bombs.
WSJ