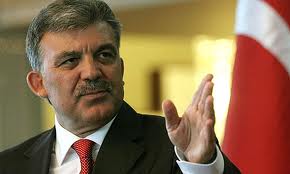 Turkey on Friday warned that it would not accept this week's declaration of provisional self-rule by Kurds in neighboring war-torn Syria.
"Turkey cannot permit a fait accompli, there is no question of accepting such a thing in Syria," Turkish President Abdullah Gul said in televised comments in eastern Turkey.
"We cannot allow Syria, which is faced with major chaos, to disintegrate," Gul said.
For three decades, Turkey has been embroiled in a deadly Kurdish insurgency on its soil.
It shares a border with Syria and fears a de facto Kurdish state there — similar to one already established in neighboring Iraq — could provide a rear base of operations for Turkish Kurd guerrillas.
On Monday, Kurdish militia dominated by a party close to Turkey's main Kurdish grouping declared provisional self-rule in Syrian areas under their control.
The move raised alarm in Ankara, whose campaign against the rebel Kurdistan Workers Party (PKK) has left more than 40,000 people dead. It is currently involved in the latest attempt to strike a peace deal with the outlawed group.
The Syrian Kurdish militia, dominated by a PKK sister party, the Democratic Union Party, hold large chunks of northwestern Syria near the Turkish border.
The Syrian Kurd declaration was blasted by the main Syrian opposition alliance, which dubbed the Kurdish groups "hostile" forces.
The opposition Syrian National Coalition is dominated by Sunni Arabs. It has been at pains to keep the Kurds on its side in the two-and-a-half-year uprising against the regime of President Bashar al-Assad.
Its main faction, the Syrian National Council, even named secular Kurdish dissident Abdulbaset Sayda as its leader last year.
But mounting violence between the Kurds and Al-Qaeda loyalists — who form a major battlefield force in the rebellion — has sparked a deepening rift between the Kurds and the mainstream opposition.
NOW/AFP