Amin Maalouf gets Lebanon's National Order of Cedar Medal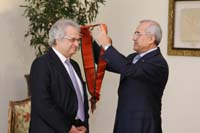 President Michel Suleiman honored Amin Maalouf, a France-based writer born in Beirut at a ceremony held at Baabda Palace on Saturday and granted him the National Order of the Cedar medal with the Rank of Grand Cordon, and said a new stamp emblazoned with Maalouf's portrait will be issued soon.
"Lebanon appreciates the contributions made by Maalouf," Suleiman said in a speech.
"Maalouf stresses that our nation and the Orient require a strong belief that opens shuttered hearts through tolerance," he said.
"My continuous obsession is the Lebanese dream which must be achieved," said Maalouf after Suleiman's speech.
"The world is still searching for a formula of coexistence," he said, adding it was the ambition of Lebanese expatriates to propose the most successful formula which without it no one would have a future.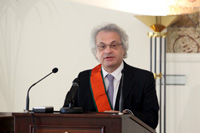 Maalouf 64 ( born 25 February 1949 in Beirut) , has been living in France since 1976. Although his native language is Arabic , he writes in French and his works have been translated into many languages.
He received the Prix Goncourt in 1993 for his novel The Rock of Tanios (English translation of Le rocher de Tanios). He has also been awarded the Prince of Asturias Award for Literature in its 2010 edition , Spain's most prestigious arts award . He was elected at the Académie française on 23 June 2011, on seat 29. Maalouf is the first Lebanese inducted as an academy immortal. He filled the vacant member seat of the late Claude Lévi-Strauss, French anthropologist and ethnologist.
His literature and essays explore the Mediterranean world and the Middle East's many conflicts from an unusual perspective.
His first work, 1983′s The Crusades through Arab Eyes, explored the crusades from an Arab perspective and his first novel, Leo Africanus, was set in the 16th century in the Mediterranean world.