Sri Lanka to shut refinery, cancels Iranian crude shipment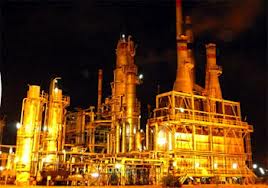 Sri Lanka's sole 50,000-barrels-per-day oil refinery faces temporary closure from Nov. 10 owing to crude shipment cancellations after a consignment was suspected of containing banned Iranian oil and another came from the wrong port, officials said.
"If we don't get crude shipment before Nov. 10, we will have to close the refinery" for a number of days, Susantha Silva, managing director at state-run Ceylon Petroleum Corporation (Ceypetco), said in a statement on Friday.
The statement said the Sapugaskanda plant, on the outskirts of the capital, Colombo, would have adequate crude supplies until that date.
Silva said there would be no shortage of refined products as Ceypetco had sufficient supplies in storage.
A shipment expected on Oct. 27 was canceled due to suspicions it contained crude banned under U.S. sanctions against Iran, the statement said. Another shipment, expected on Oct. 19, was rejected after being loaded in Sharjah port instead of Jebel Dhanna port as originally agreed.
Silva also said a crude shipment expected on Nov. 9 would be delayed by two to three days due to a fault in the vessel.
An official at Sri Lanka's petroleum ministry told Reuters that the third shipment, of 180,000 tonnes, would be delayed by the ship fault.
"We will have to close the refinery for about three days. We will carry out maintenance repairs during that time," the official said.
Silva and the ministry official declined to identify the company responsible for the delay.
Government officials have said the United States told them Sri Lanka would no longer be eligible to import Iranian crude after the island nation imported no cargoes from Iran in the second half of 2012.
The refinery is configured to run mainly on Iranian crude and has been scrambling to fill the shortfall.
Sri Lanka cut imports of Iranian crude by 23 percent last year, but disagrees with the Western sanctions, saying they punish countries that depend on the oil.
Reuters