Suleiman calls for end to Israeli spying against Lebanon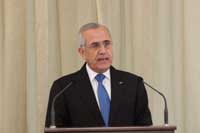 During a ceremony on Thursday at the Baabda palace marking the launching of a plan aimed at eradicating child labor, Lebanon President Michel Suleiman called for putting an end to espionage against Lebanon committed by "the enemy," after a report revealed that Israel had erected a series of advanced spy posts along the border.
" We must stop the enemy's violations in all their forms, especially spying," Suleiman said
This comes after Amal Movement leader and Speaker Nabih Berri revealed Wednesday that Israel has been installing spying stations along its border with Lebanon and called on the Lebanese government to file a complaint at the United Nations on this matter.
"Israel has installed and continues to install spying stations along the border with Lebanon, starting from Naqoura , passing by Khiam and all the way to Shebaa," Berri told visitors during his weekly meeting with MPs, according to a statement from his office National News Agency NNA reported.
Lebanon's telecom minister warned that the Israeli intelligence equipment could "detect everything that passes through the air."
A fact-finding committee was formed upon the request of the cabinet to investigate the Israeli measures and to prepare a detailed report on the violations, according to the same report.
Suleiman also rejected Lebanon's involvement in the region's crises in reference to Hezbollah's direct involvement in the increasingly sectarian civil war in Syria.
Thousands of Hezbollah fighters are helping Syrian President Bashar Assad's troops crush the rebellion against him.
Wish list
– Suleiman also urged the parliament and involved ministries to take decisions on pending issues such as the wage scale and pension.
– He also called for a comprehensive national development plan.
– He called on the Lebanese leaders to consider the nation's interest as their priority."
– He also called for an end to the paralysis of administrative and constitutional institutions.
"Our children want to live in a normal environment that protects them, a family that embraces them and a school that gives them shelter," he said in his speech.
He also said Lebanon's children are dreaming of a country where there is unity and where people don't blindly follow the politicians.