Kerry confident of an Israeli,Palestinians peace deal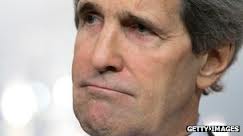 U.S. Secretary of State John F. Kerry tried Wednesday to steady wavering peace talks between Israel and the Palestinians, amid visible cracks in the three-month-old negotiations.
Both Israeli Prime Minister Benjamin Netanyahu and Palestinian Authority President Mahmoud Abbas warned this week of growing tensions in the closed-door discussions between the teams, which have taken public potshots at each other in recent days.
Speaking before a three-hour session with Kerry on Wednesday morning, Netanyahu accused the Palestinians of "continuing to create artificial crises, continuing to . . . run away from the historic decisions that are needed to make a genuine peace."
After a meeting later with Abbas in Bethlehem, a somber Kerry appeared solo to say "unequivocally that President Abbas is 100 percent committed to these talks" and was willing to compromise "in an effort to find a fair and just peace."
On Monday, in a rare public statement on the negotiations, Abbas had said that the atmosphere had soured and that "the situation is likely to explode soon." After more than a dozen negotiating sessions, "there is nothing on the ground," he said. "The negotiations are still without results."
Kerry, making his seventh trip to the region since March, appeared to be trying to plug a leaking dike. As he has before, he urged both sides to keep their negotiations private and to refrain from inflammatory remarks and actions. When the talks began in late July, Kerry set a nine-month timeline to reach a peace deal.
"There are always difficulties, always tensions," Secretary of State John F. Kerry said before his meeting with Netanyahu. "I am very confident of our ability to work through them. That is why I am here."
"There are always difficulties, always tensions," he said before his meeting with Netanyahu. "I am very confident of our ability to work through them. That is why I am here."
In a rising chorus of mutual recrimination, Palestinian negotiators have accused the Israelis of refusing to consider core issues beyond their own security concerns, while Israeli officials complain that the Palestinian demands are unrealistic and that the Palestinians have been leaking the substance of the talks to the news media.
Abbas's Monday comments came after Israel announced plans to approve thousands of new housing units in Jewish settlements in the West Bank and East Jerusalem on land that the Palestinians claim for a future state and its capital.
"The Palestinians believe that the settlements are illegal," Kerry said after he met with Abbas. "The United States has said that . . . the settlements are not helpful and are illegitimate."
The housing announcements came after Netanyahu released a second tranche of longtime Palestinian prisoners, bringing the total freed since the talks started to 52 out of 104. Although the releases are intended to signal good faith, they have been undercut, at least as far as the Palestinians are concerned, by new housing approvals that have followed soon afterward.
U.S. officials have said they recognize that the announcements — mostly about bureaucratic steps toward construction already in the pipeline — help Netanyahu deflect domestic opposition to the prisoner releases.
But the timing has given Abbas his own domestic political problems, prompting charges that he agreed to a quid pro quo with the Israelis over settlements and undermining whatever points he earns with the Palestinian public for the releases.
With Abbas's constituents clearly in mind, Kerry said he wanted "to make it extremely clear that at no time did the Palestinians in any way agree, as a matter of going to the talks, that they somehow condone or accept the settlements." He said the United States believes that construction should be "limited as much as possible" during the talks.
U.S. and Arab diplomats have suggested that some of the most populous settlements in the West Bank, where 350,000 Jews live, could remain in Israeli hands in exchange for "land swaps" with the Palestinians as part of a final peace deal. Dividing East and West Jerusalem would be one of the toughest parts of any negotiation.
Most of the world considers the Jewish settlements illegal under international law. Israel annexed East Jerusalem after winning the 1967 war, and the mayor of Jerusalem has pledged that the city will remain Israel's "undivided capital."
A senior Palestinian official suggested this week that the Palestinians may ask the United Nations to condemn settlement construction. But Kerry said Abbas told him that would not happen "during the period of time of these talks, in exchange for the prisoners that are being released by Israel."
After another session with Netanyahu, on Wednesday night, Kerry is due to see Abbas again, in Jordan on Thursday. Despite rumors that Kerry hoped to host a meeting between Netanyahu and Abbas during his trip, the first such session since the negotiations began, U.S. officials said that was unlikely without progress to announce.
Kerry has denied Israeli news reports this week that the United States will present its own peace plan and directly mediate the talks if there is no significant progress by January. No such plan exists "at this time," he said.
As his morning meeting with Kerry began, Netanyahu offered a lengthy denunciation of Iran and a warning against any "partial deal" coming out of nuclear talks in Geneva between Tehran and the United States and its partners.
Iran's nuclear program and the negotiations have created strange bedfellows in the Middle East. Saudi Arabia raised nearly identical concerns during Kerry's visit there Monday, and the secretary gave the Israelis the same response he gave the Saudis.
"Our goal is an Iran that has only a peaceful nuclear program," he told Netanyahu. "As I have said many times, no deal is better than a bad deal. We will not make a bad deal, if a deal can be made at all."
At a meeting with Israeli President Shimon Peres on Wednesday evening, Kerry said the United States' eyes were "wide open."
"Our hope is that Iran will understand that this is a simple obligation," he said. "Show the world that you are pursuing a peaceful program. It's not that hard. Lots of other nations do it."
Washington Post