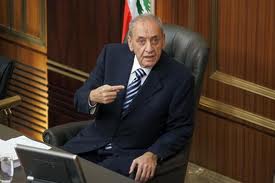 Amal Movement leader and Speaker Nabih Berri revealed Wednesday that Israel has been installing spying stations along its border with Lebanon and called on the Lebanese government to file a complaint to the United Nations on this matter.
"Israel has installed and continues to install spying stations along the border with Lebanon, starting from Naqoura , passing by Khiam and all the way to Shebaa," Berri told visitors during his weekly meeting with MPs, according to a statement from his office National News Agency NNA reported.
Berri also reveled that the stations had modern equipment with the ability to monitor the entirety of Lebanon and were all linked to Tel Aviv via devices in Mount Hermon and the occupied Shebaa Farms on the Lebanese-Israeli border.
NNA added that Berri presented the MPs with a copy of documents and photos proving the presence of the stations and said the Telecommunications Ministry had the related files.
Berri also said that he had asked the head of the Information and Telecommunications parliamentary committee to hold a session in the presence of relevant ministers and take action on the issue, " primarily the filing of an official complaint with the United Nations Security Council."
The Amal Movement leader as well as Hezbollah are reportedly concerned that Israel might strike Lebanon amid recent regional developments.
"They fear an Israeli attack against Lebanon because of the Syrian situation as well as domestic [Lebanese] divisions, which provide Israel with a convenient opportunity to conduct such an attack," NOW quoted Berri sources present at the Wednesday meeting at the parliament as saying
This error message is only visible to WordPress admins
Error: No connected account.
Please go to the Instagram Feed settings page to connect an account.