Suleiman clarifies Lebanon's dissociation policy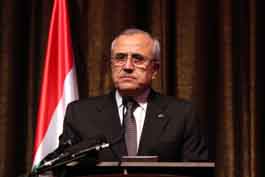 Lebanese President Michel Suleiman said that Lebanon would participate in Geneva II conference and abide by its decisions if they ( the decisions) do not conflict with Lebanon's policy of dissociation which allows it to distance itself from the repercussions of the crisis in Syria.
"If Geneva II is balanced we will take part in it and we will decide whether its decisions guarantee distancing Lebanon from the struggles and negative repercussions of the Syrian crisis," Suleiman said in remarks published by An-Nahar newspaper on Saturday.
"But, in this way we won't be dissociating ourselves from Syria."
Suleiman's remarks aimed to clarify the distinction between the policy of dissociation advocated by the Lebanese government led by caretaker Prime Minister Najib Mikati and the Baabda Declaration that was issued following a round of national dialogue last year and that stated that Lebanon should be distanced from regional and international conflicts.
"The term 'dissociation' had not been used before and that's why there has been this linguistic confusion. Dissociation is not our policy, but rather distancing Lebanon as stated by article 12 of the Baabda Declaration."
"We do not dissociate ourselves from conferences, but we dissociate ourselves from the decisions that could be made at these conferences."
"The [dissociation] decision could be made to secure distancing Lebanon [from regional crises]."
Talks regarding Geneva II were made on Friday between UN-Arab League envoy Lakhdar Brahimi and Suleiman. The latter underlined the importance of reaching a political solution to put an end to the war that has been raging in Syria for over two years.
The renewed bid for peace talks aimed at resolving the two and a half-year conflict in Syria comes after last month's US-Russian accord on dismantling Syria's chemical arsenal.
Suleiman did not reveal who will represent Lebanon at Geneva II but on Friday caretaker Foreign Minister Adnan Mansour stressed that he will attend the Syria talks if Lebanon receives an invitation, even though the March 14 coalition is opposed to him representing the country.
Emad Wakim, a key member of the Lebanese Forces said yesterday : "If Mansour goes to Geneva he will be representing Hezbollah and not Lebanon".
Many politicians have on several occasions described Mansour, who represents Speaker Nabih Berri in the cabinet as being "a Syrian Foreign Minister".
NOW/Agencies