2 Germans briefly abducted in Lebanon's Bekaa valley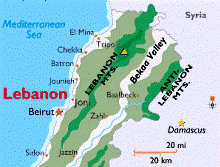 Two German nationals briefly kidnapped in Lebanon's eastern Bekaa Valley were released early Saturday, as a gunfight between their abductors and security forces killed a soldier and a gunman, officials said.
It wasn't immediately clear what led to the Germans being abducted in the Bekaa Valley, a popular tourist destination home to wineries and temples, though also dominated by powerful armed clans and a center of Lebanon's drug trade.
Early reports suggested the two men were seized Friday night while en route to the towns of Shleifa and Deir al-Ahmar, security officials said.
Lebanon's official news agency and a security official said the German men had an argument with drug dealers over a payment. Another security official said gunmen seized the two men and demanded they withdraw some $3,000 dollars from their credit card, then demanded $5,000 more. Both said the gunmen involved had a history of drug smuggling in a region known for its marijuana crop.
The kidnappers released the men early Saturday under unclear circumstances, security officials said. The hostages later made their way to Beirut, Lebanon's capital, where they were detained by patrolling soldiers.
At dawn Saturday, soldiers surrounded the suspected kidnappers in the nearby village of Deir al-Wasaa, sparking a firefight that killed a soldier and a gunman, officials said. There were no immediate reports of arrests.
All officials spoke on condition of anonymity as they were not authorized to publicly speak to journalists.
Clans in the valley often use hostage-taking as a method of resolving conflicts, though it's unusual for foreigners to be kidnapped. The last major kidnapping involving foreigners in Lebanon was in March 2011, when seven Estonian bike riders were abducted. They were released four months later.
The Germans are being held for questioning, officials said. Germany's Foreign Ministry said in a statement Saturday that they were in contact with their nationals and confirmed the two were being held by police. It had no further comment.