Putin tops Forbes most powerful people list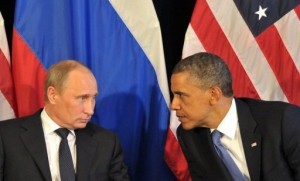 Russian President Vladimir Putin has been named the world's most powerful person by Forbes magazine.
He has beaten US President Barack Obama into second place on the US magazine's 2013 list.
Pope Francis features at number four after Chinese President Xi Jinping.
Mr Obama's "lame duck period" had started earlier than usual while Mr Putin had consolidated his control of Russia, Forbes says.
German Chancellor Angela Merkel ranked number five – one of only two women to feature in the top 20.
British PM David Cameron is 11th most powerful, in the magazine's opinion – well ahead of his French counterpart but well behind American philanthropist Bill Gates.
'Lame duck'
It is the first time in three years that Mr Obama has dropped to second place on the Forbes list.
It comes as relations between the US and Russia have been hit by the civil war in Syria.
Mr Putin, who has been dominating Russian politics for 12 years, was re-elected president in March 2012.
Mr Obama, on the other hand, has emerged bruised from a 16-day US government shutdown caused by a budget and debt crisis in Washington, Forbes says:
"Putin has solidified his control over Russia, while Obama's lame duck period has seemingly set in earlier than usual for a two-term president – latest example: the government shutdown mess."
Russia granted asylum in August to former National Security Agency (NSA) contractor Edward Snowden, who is wanted in the US over intelligence leaks.
A month later, Mr Putin "played the trump card again" by averting Mr Obama's threatened missile strikes on Syria with a plan for Damascus to hand over chemical weapons, the magazine says.
"Anyone watching this year's chess match over Syria and NSA leaks has a clear idea of the shifting individual power dynamics," it adds.
BBC