Wedding fireworks mistaken for Yemen US embassy attack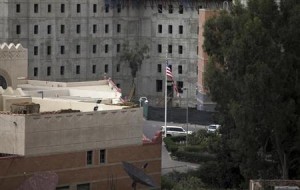 Fireworks at a wedding being celebrated within earshot of the US embassy in Yemen sparked rumors of an attack on the mission, the interior ministry said on Tuesday.
Some media had reported a large explosion and heavy gunfire Monday night near the US mission in Sana'a, while witnesses and security sources said a brief gun battle had erupted in the vicinity.
The ministry in a statement denied "information reported by certain media of an explosion and shooting in a street near the American embassy in Sana'a."
"During a wedding procession in the street participants set off fireworks," said the statement, as published by the Saba state news agency.
The US State Department late on Monday said there was "no indication that online reports of an attack on or near the US embassy in Yemen are accurate."
The US embassy and several Western missions in Yemen closed in August after US warnings of an Al Qaida attack.
Al Qaida in the Arabian Peninsula (AQAP) has intensified its attacks on security forces in Yemen, taking advantage of the weakening of the Sana'a central government since a popular uprising that toppled president Ali Abdullah Saleh in 2011.
US officials have said they view Al Qaida's Yemen franchise as the most dangerous affiliate of the global terror network, following several foiled attacks on the US homeland that were traced back to the group.
Impoverished Yemen is also awash with personal weapons, while some of its tribes are heavily armed.
GN/ AFP
Photo: Yemeni police moved in to halt a firework display at a wedding party near the U.S. Embassy in Sanaa on Monday that triggered rumors of an attack on the mission, a security guard and a Yemeni diplomat in Washington said.