Brahimi warns of " Somalization" if Syria peace efforts fail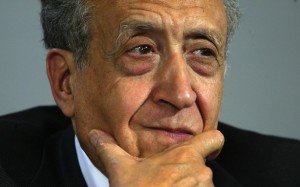 UN-Arab League envoy Lakhdar Brahimi, in Syria Tuesday on the most sensitive leg of a regional push for peace talks, has warned of the 'Somalization' of the war-ravaged country.
His grim warning came as fighting prevented chemical weapons inspectors from visiting two sites , although UN chief Ban Ki-moon said the mission to destroy Syria's arsenal by mid-2014 was still on track.
Brahimi has been seeking to build on the momentum of last month's US-Russian deal to eradicate Syria's chemical weapons in order to launch the so-called Geneva II peace talks proposed for next month.
But the talks have been cast into doubt by the increasingly divided opposition's refusal to attend unless President Bashar al-Assad agrees to step down, a demand rejected by Damascus.
In an interview with a French website published Monday, Brahimi said Assad could contribute to the transition to a "new" Syria but not as the country's leader.
"What history teaches us is that after a crisis like this there is no going back," the Algerian diplomat told the Jeune Afrique website ahead of his first visit to Syria since December, when he angered the regime by insisting that all powers be handed over to a transitional government.
The veteran troubleshooter admitted "the entire world will not be present" at the talks, but said the alternative to a political settlement could be a failed state in the heart of the Middle East.
"The real danger is a sort of "Somalization," but even more deep and lasting than what we have seen in Somalia."UN-Arab League envoy Lakhdar Brahimi said Tuesday and warned that the alternative to a political settlement could be a failed state in the heart of the Middle East.
"The real danger is a sort of "Somalization," but even more deep and lasting than what we have seen in Somalia."
More than 115,000 people are estimated to have been killed in Syria's 31-month conflict, which erupted after the regime launched a brutal crackdown on peaceful pro-democracy protests.
In the latest blow to peace efforts, 19 Islamist rebel groups issued a statement Sunday saying anyone who attends the Geneva talks would be committing "treason" and "would have to answer for it before our courts," implying they could face execution.
Russia denounced the warnings, saying it was "outrageous that some of these extremist, terrorist organizations fighting government forces in Syria are starting to make threats."
But the rebel statement came from a wide range of opposition groups, from radical Salafists to moderates who form the backbone of the mainstream rebel Free Syrian Army.
"So you can say that Geneva II is almost totally rejected within rebel ranks," said Thomas Pierret, an expert at Scotland's Edinburgh University.
"If some of the opposition does take part and reaches an accord, it will be worthless."
Under pressure from its Western backers to attend, the National Coalition, an umbrella opposition group, is to meet on November 9 to decide whether to take part.
Fighting hinders chemical inspectors
The intensity of the fighting in Syria has meanwhile slowed the unprecedented international mission to dispose of a vast chemical arsenal in a country torn apart by civil war.
The Hague-based Organization for the Prohibition of Chemical Weapons said Monday its inspectors had been unable to reach the last two of 23 disclosed chemical weapons sites for "security reasons."
Inspectors were supposed to have visited all sites declared by Syria by Sunday as part of their mission to oversee the elimination of the country's chemical weapons by mid-2014.
UN chief Ban Ki-moon said the inspectors were still on track to destroy Syria's chemical weapons production equipment by November 1, the first major deadline of a timetable set out by the Security Council.
Ban said Damascus has extended "consistent, constructive" support to the mission but warned "the job is far from complete and much important work remains to be done."
"Without sustained genuine commitment by the Syrian authorities, the joint mission will not fulfill its objectives," he said.
On the battlefront, Syria's army regained control of the Christian town of Sadad in the central province of Homs after days of fighting against rebels and jihadists, state news agency SANA reported Monday.
The Syrian Observatory for Human Rights confirmed the report, adding that anti-government forces had withdrawn to Mahin, the scene of fierce fighting over the past week for control of a large arms depot.
NOW/AFP