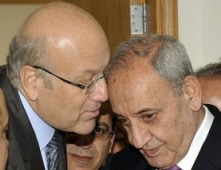 Lebanon Parliament Speaker Nabih Berri blamed Caretaker Prime Minister Najib Mikati for obstructing the work of the parliament .
"It is not normal or acceptable that the legislative power becomes dependent on the mood of the premier, no matter who he is, in a way that he is able to obstruct the parliament, as well as more than 30 public administrations affiliated with the premiership when he resigns," Berri told As-Safir newspaper in remarks published on Tuesday .
"I have already said that even if my father rose from the dead and became a premier and then resigned, I would not allow his resignation to obstruct the work of the parliament, which is greater than all of us," he added.
Berri's remarks come after former Lebanese PM and current Future Movement parliamentary bloc leader MP Fouad Siniora accused him of taking advantage of the vacuum left by Mikati's resignation to practice a "parliamentary power."
Berri also accused a number of Lebanese parties of boycotting parliament sessions solely because he is the speaker.
"The fact that I am the head of the parliament does not mean that I [am] the parliament; therefore, it is not acceptable to approach the parliament's role based on some parties' stances on me," he added.
A number of parliamentary blocs, including the Lebanese Forces, the Future Movement , the FPM and independent Christian MPs have repeatedly boycotted the parliament plenary session, saying that the house, in its extended term, should only deal with urgent legislation.
As a result, the session – which has at least 52 legislations listed on its agenda – was postponed several times due to lack of quorum.
Berri has insisted on holding the parliament session with the agenda unchanged.
Commenting on PM Designate Tammam Salam's failure so far to form a cabinet Berri pointed out to a number of "defects" in the Lebanese constitution, and said that "had the constitution set a certain deadline for the cabinet formation, the cabinet would have been formed a long time ago."
"Is it acceptable that there is no text in the constitution that gives a certain deadline for the designate-premier to form a cabinet, draft a ministerial statement and submit it to the parliament within a one-month period following the cabinet formation?" he asked.
Salam has been trying since his appointment last April to form a cabinet based on giving an equal share to the rival political blocks – March 14 , March 8 and the centrists, but the Hezbollah led March 8 alliance has been insisting on having a bigger share in the cabinet to allow it to veto its decisions . Salam has been opposed to giving any party a veto power ( usually referred to as a blocking third ) and has been insisting that the 8-8-8 formula is in the best interest of Lebanon . He has on several occasions floated the idea of forming a neutral cabinet of technocrats, but Hezbollah and its ally FPM leader MP Michel Aoun have been opposed to this idea too and this is why Lebanon is still without a government and Mikati is still acting as the caretaker Prime Minister.
During his Monday's televised address Hezbollah chief Hassan Nasrallah said he accepts the 9-9-6 formula.
"We [currently] accept the 9-9-6 formula [for cabinet formation], but when conditions change we might no longer accept it; take advantage of the opportunity," Nasrallah told March 14 alliance
PSP leader walid jumblatt has been promoting the 9-9-6 formula that was initially proposed by Hezbollah's ally Speaker Nabih Berri which calls for giving veto power to the two main rival camps March 14 and March 8, but 6 ministers only to the centrist bloc which is suuposed to include president Michel Suleiman and PM designate Tammam Salam in addition to Jumblatt. But many March 14 politicians now consider Jumblatt a part of the March 8 alliance and for this reason they rejected the proposal. March 14 alliance is also insisting that Hezbollah should withdraw its fighters from Syria before participating in any new cabinet
NOW
This error message is only visible to WordPress admins
Error: No connected account.
Please go to the Instagram Feed settings page to connect an account.