Iran will participate in upcoming Syria talks, if invited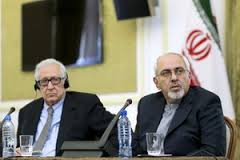 Iran will take part in a conference intended to hash out a solution to the Syrian conflict before the end of the year — if it receives an invitation, an Iranian official said Saturday, according to state-run media.
"Iran will do its best to help solve the issue through dialogue between the Syrian parties," said Foreign Minister Mohammad Javad Zarif, according to the Iranian news agency IRNA.
Speaking at a joint news conference with Lakhdar Brahimi, the U.N. special envoy on Syria, Zarif said Tehran would participate in the Geneva talks to help end the war through political means.
Brahimi arrived Saturday in Tehran with a delegation on his second trip to Iran since he was appointed to the U.N. mission, according to state-run Press TV. He is on a Middle East tour aimed at raising support for the planned meeting.
The long-delayed conference to broker an end to the country's civil war will be held by the end of the year, Syria's deputy prime minister told reporters here this month.
Qadri Jamil said the precise date was not clear. The United Nations "defined the dates as the second half to the end of November," he said. "If not even November, then the month after that."
But he said there is no doubt that the conference, dubbed Geneva 2, will be held. "The Geneva conference is fate for all of us, it's fate to take part in the Geneva conference. Why? Because everything is at a dead end."
Arab League Secretary-General Nabil Elaraby said last Sunday in Cairo that the Geneva talks were scheduled for November 23, but that the date was not firm.
"There are many arrangements to be made and many difficulties which must be overcome to make this conference possible," he said.
Brahimi said last Sunday that he planned to meet with Russian and U.S. officials as well other representatives of the U.N. Security Council to finalize details.
He also stressed that no meeting could be held without a "convincing opposition that represents Syria's opposition population."
Iran's willingness to attend the conference comes more than five months after the United States and Russia announced on May 7 that they would try to bring the warring parties to a second conference in Geneva to implement the peace plan they endorsed there in 2012 — at what has come to be called Geneva 1 — which left open the question of whether Syrian President Bashar al-Assad must leave power.
"The implementation of Geneva 1 is the goal of Geneva 2, and that is a transition government with full executive authority, which gives the Syrian people as a whole, everybody in Syria, the chance to have a new beginning where they choose their future leadership," Secretary of State John Kerry told CNN in June.
According to the United Nations, more than 100,000 people have died in the Syrian conflict, which began in March 2011 when government forces cracked down on peaceful protesters, and then morphed into a civil war.
CNN